The Masters Golf Tournament in Augusta
2020 Masters to be Conducted Without Patrons or Guests 
Please see below a statement from Fred Ridley, Chairman of Augusta National Golf Club regarding the rescheduling of The Masters Golf Tournament.
Fred Ridley, Chairman of Augusta National Golf Club, announced today that the 2020 Masters Tournament will take place November 9-15 without patrons or guests on the grounds.
"Since our initial announcement to postpone the 2020 Masters, we have remained committed to a rescheduled Tournament in November while continually examining how best to host a global sporting event amid this pandemic," said Ridley. "As we have considered the issues facing us, the health and safety of everyone associated with the Masters always has been our first and most important priority.
"Throughout this process, we have consulted with health officials and a variety of subject matter experts. Ultimately, we determined that the potential risks of welcoming patrons and guests to our grounds in November are simply too significant to overcome.
"Even in the current circumstances, staging the Masters without patrons is deeply disappointing. The guests who come to Augusta each spring from around the world are a key component to making the Tournament so special. Augusta National has the responsibility, however, to understand and accept the challenges associated with this virus and take the necessary precautions to conduct all aspects of the Tournament in a safe manner. We look forward to the day when we can welcome all of our patrons back, hopefully in April 2021.
"We appreciate the support and patience of all those we serve – including the Augusta community, our corporate and broadcast partners and our friends in golf – as we continue to plan for this historic event."
All 2020 ticket holders will be guaranteed the same tickets for the 2021 Masters. Augusta National will communicate directly with all ticket holders and 2021 ticket applicants in September. 
For a list of frequently asked questions about ticketing, please click here.
The Augusta National Golf Club, home of the prestigious Masters® Golf Tournament, was founded in 1931 by golf legend Bobby Jones and businessman Clifford Roberts, on the site of a former indigo plantation and commercial nursery named Fruitlands. Captivated by the rolling terrain blanketed with azaleas, yellow jasmine, flowering peach, and tea olive, Jones copied each hole from one of his favorite fairways worldwide to create the course of his dreams. Then, in 1934, he invited the world's best golfers to a contest there and the Masters® tournament was born.
Held each year, during the first full week in April, Masters® practice round tickets, and daily tournament tickets are limited and sold in advance by application only. Non-member course visitation and souvenir shopping is only available during the tournament, and only with a series badge, practice round ticket or daily tournament ticket.
Look through other areas of the site for FAQ, parking & maps, and a list of Masters Week events in Augusta Georgia. For additional up-to-date information regarding the tournament schedule, television coverage, future dates, and practice round tickets, please visit the official website at Masters.com.
To see information on Augusta hotels, visit the Stay section of our website. Also, see our 5 Tips for Your Trip to The Masters below for recommended ways to best enjoy our Masters Week in Augusta Georgia.  To review home rental options for the tournament, please visit The Masters Housing Bureau.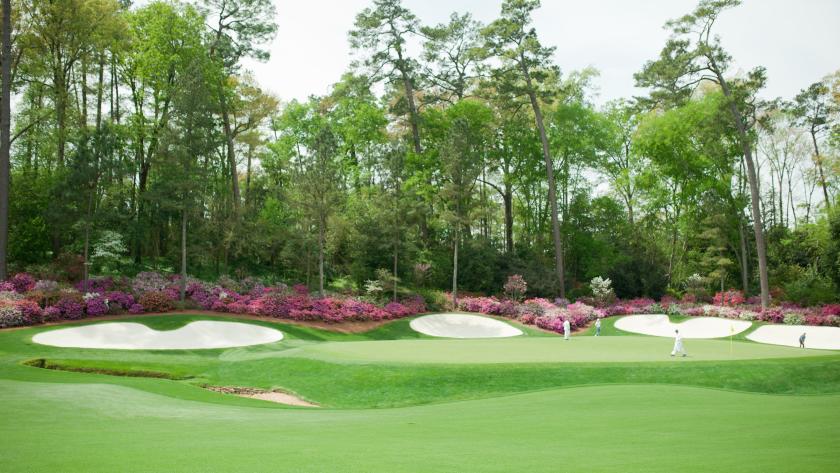 Frequently Asked Questions
Click here to view frequently asked questions regarding ticketing information for the rescheduled tournament dates without patrons.