This  location is currently in the process of being repaired. You may still enjoy the audio from this stop below.​
Lenox Theatre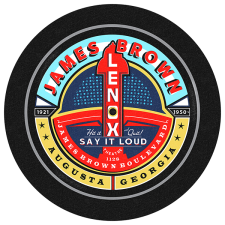 "The one thing that can solve most of our problems is dancing." - James Brown
A grand theater back in the day, The Lenox was a premiere all-African-American venue that bypassed the segregated oppression of the Jim Crow era and provided stellar entertainment from the likes of Ray Charles, Ethel Waters, and our very own Godfather of Soul. A fledgling Mr. Brown won his first talent contest singing "So Long." The Lenox may no longer be standing, but its soul-vibe is alive. Soul starts here. 
Listen: