Back
Kayaking in Downtown Augusta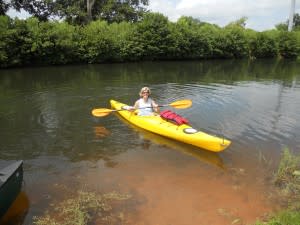 I know it might seem a little weird to kayak in downtown, but along the Augusta Canal it is possible. The journey for me began at the Augusta Canal Headgates where the Canal begins – this is the spot where it branches off from the Savannah River. The canal was originally built by hand in 1845 to harness the water power to operate textile mills. It continues to do that job today more than 100 years later.
For more than seven miles that the canal takes, it leisurely turns. It starts out very quiet and calm with plenty of wildlife and ends with beautiful 100 year-old factories still drawing in water and then right into downtown Augusta – just three blocks from Augusta's main street.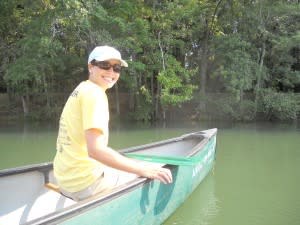 The canal is all calm water and can be navigated by even the most novice of water travelers – as my friend and co-worker Katrina demonstrated in her canoe. Anna did her best to steer them straight. The entire trip took just under three hours, but that did include stops for snacks. There are many places to put in if you want a shorter trip, but there is also Lake Olmstead to visit if you want to take a longer trip. There is also a path along the canal for cyclists, walkers and fishermen. But today's journey for me was in a kayak and I loved it!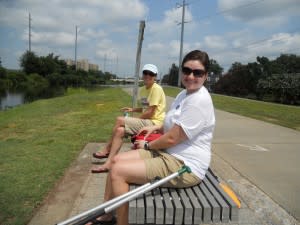 Today we rented from AWOL. They will drop you off and with a cell phone call, pick you up once you're done.
American Wilderness Outfitters Limited (AWOL) 2328 Washington Road Augusta GA 30904 706-738-8500 www.getawol.com