It was a perfect fall weekend to explore Aqueduct Park with my girlfriend's dog Harvey.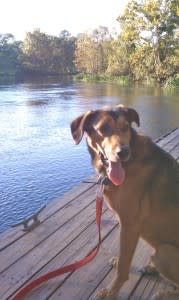 Water from the Augusta Canal feeds the park via a cascading waterfall on one side and rock-lined spillway on the other both meeting in a small pool before wandering off a few hundred yards to the Savannah River.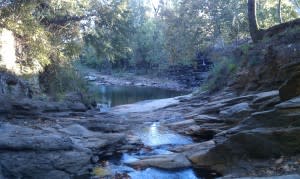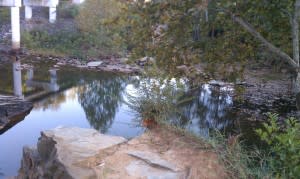 The pool makes for a perfect swimming hole on hot summer days.  Today's plan didn't involve any swimming for me, but Harvey loved it.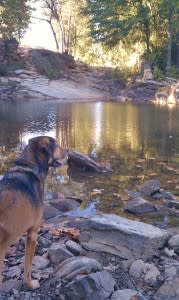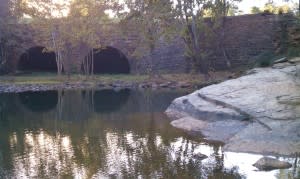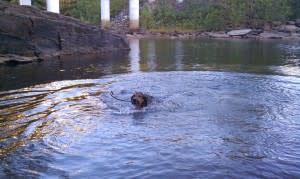 Water levels vary by season and were barely a trickle today.  When the water is really flowing, more adventurous people enjoy sliding down the rocks of the spillway that today I could walk across with ease.  Another activity people enjoy is rappelling down or climbing up the walls of the old aqueduct.  I'll save that for another day!
Aqueduct Park is a fairly new park who's success is largely attributable to determined local volunteers who rescued the area from a jungle of vines, shrubs, and trash.  If you'd like to go and admire their handiwork, the area is accessible by car via a dirt road at the end of Goodrich Street, or by parking across the Canal near Lake Olmstead and crossing the pedestrian bridge.  Google pinpoints it here.
Enjoy!