Back
There's a new TASTE in town!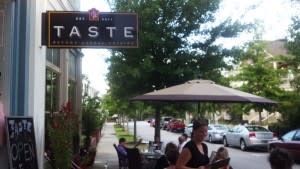 My friend and I were tired of eating at the same places. Not particularly being a fan of chain restaurants, we decided to try a new place called Taste. Taste is located in North Augusta in the beautiful neighborhood of Hammond's Ferry, along the bank of the Savannah River.
Taste is a simple, quaint tapas restaurant and wine bar with a Southern feel. They use ingredients grown locally in both Georgia and South Carolina. They offer both inside and outside dining; it's cute and welcoming and the staff is great!
Tapas restaurants are my absolute favorite because it promotes sharing with friends, which means you get to try a nice variety of dishes. What did we try? Well, it's more like what didn't we try?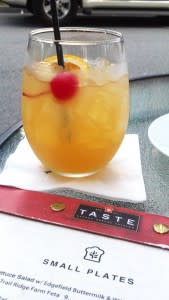 On special was the white peach sangria, made at the restaurant. It tasted fresh, crisp and fantastic! They also serve a red sangria that looked very good. I'll without a doubt be trying that on my next visit.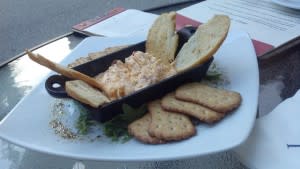 We ordered the smoked apple wood bacon pimento cheese with crackers and toast points to start. Now, I've grown up in the South my entire life and no one makes pimento cheese like my grandmama, but it was better than hers! Of course, I'd never tell her that.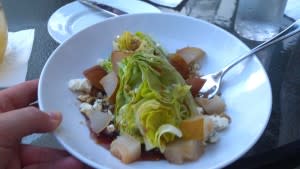 Then we had the roasted pear wedge salad with feta cheese and a house-made vinaigrette. It was just right and hit the spot.
Another great thing about tapas restaurants is that you eat smaller portions so you can save room for dessert! Because we all know when something tastes good that it's difficult to stop eating.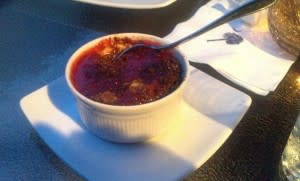 What did we have for dessert? Chocolate bread pudding. Yum. We had to wait a little while on this dish, but it was well worth the wait because it was baked fresh to order. It was heaven in a dish.
Taste is one of my new favorite spots and I will definitely be returning to try more of their dishes and weekly specials.
Taste is open Wednesday through Saturday for lunch (11:00 a.m. until 3:00 p.m.) and dinner (5:30 p.m. - until).
Taste is located in Hammond's Ferry at 465 Railroad Street, Suite 100 in North Augusta, SC 29841. Call today for more information or to make reservations (803) 341-9881 or visit their website: EatAtTaste.com