Media Kit
Destination Travel Network &
Destination Augusta
Advertising opportunities on VisitAugusta.com

For pricing and program details: advertising@DTNads.com
Creative Information:
Responsive website design allows advertisements to display on all devices.
All placements are templated and designed to match the visual aesthetic of VisitAugusta.com.
Images should be single photographs without any overlaid elements, including logos. No collages or "photoshopping," please.
All character count specs include individual spaces, punctuation marks, and letters. We recommend using a character count tool such as http://www.charactercountonline.com/ to track copy length.
Send creative assets to support@dtnads.com.
Run of Site Banner
Photo (599w x 381h pixels)
Headline (62 characters)
Body (242 characters)
Clickthrough URL
Sponsored
Augusta is home to several modern chain hotels with all the conveniences you want. Or you can opt for a historic inn with all the Southern charm we're known for. Whatever you choose, we just want you to feel at home when you're here.
Read More
Spotlight Text Link
Photo (480w x 320h pixels)
Headline (28 characters)
Body (84 characters)
Clickthrough URL
Sponsored
Eat, drink, and be merry. In the South, we're serious about great food.
Read More
Mobile Banner 
Photo (90w x 50h pixels)
Headline (17 characters)
Body (30 characters)
Clickthrough URL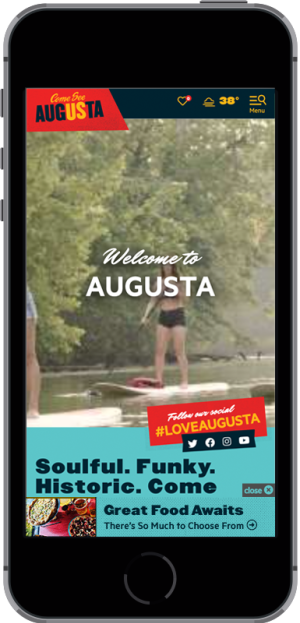 Featured Listing 
Pulls content from your existing listing detail page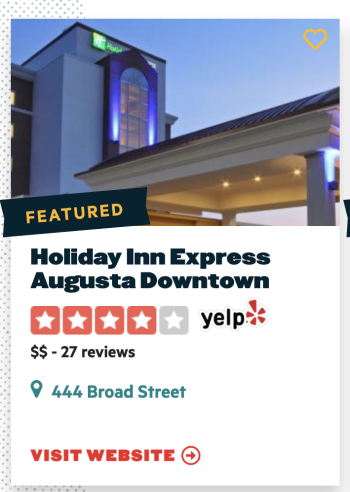 Premium Page Sponsor
Photo (1064w x 599h pixels)
Headline (35 characters)
Body (200 characters)
Clickthrough URL
sponsored
In Augusta, music and nightlife go hand in hand. Sure, you can find one without the other. But would you really want that? You can go out on almost any given night and hear live music.
Header Image
Photo (1400w x 735h pixels)
Headline (55 characters)
Body (60 characters)
Clickthrough URL