The commercial says, 'WifeSaver you're a life saver...Put a little South in your Mouth!'. And it is so true! The other day my friends and I were craving some good Southern food for lunch, so we headed down the street and picked up WifeSaver for lunch. WifeSaver is a local chain in the Augusta area, known for comfort food, fried chicken and banana pudding.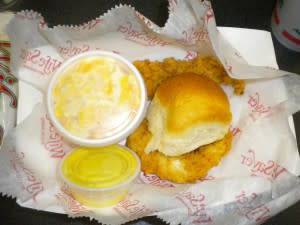 Stacey and I both had kid's meals with chicken strips, which was more than enough for lunch and Iman tried the fried chicken combo.  Everything was really delicious! The chicken strips are my favorite in town, because they are so fresh tasting and flaky.  The tea is also to die for, sweet and ice cold!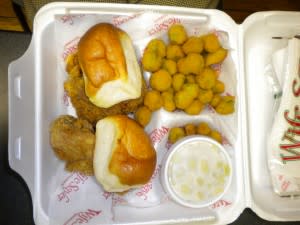 WifeSaver also has plenty of options if you need food catered for an event, or even if you're just taking home food to your family for supper. Everything is tasty and quick!  Next time you're in town, stop by the nearest WifeSaver for some chicken and banana pudding. You can thank me later!
And if you have a few extra minutes, click here to see how WifeSaver got its start in Augusta.