"Whirl (N): a rapid round of events, affairs, etc"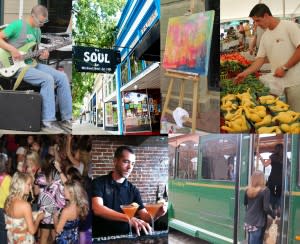 We all need a little mini-vacation sometimes and a weekend whirl to freshen things up is always fun. So whether your planning a weekend trip to visit Augusta or looking to show visiting friends and family a good time, this is a fun itinerary that has a few of my favorite things to do.
Friday Night
Get a taste of Augusta's downtown dining scene. There's something to please everyone's taste buds. Feeling adventurous? Try Bees Knees – this tapas style restaurant adds Southern flair to international dishes.
Get a shot of Augusta's downtown nightlife. While you're out and about, enjoy live Indie bands, bar bands, and drink specials downtown. A few of my favorite hot spots are Sky City, Soul Bar, Metro Pub and Stillwater Taproom.
If you're in town the first Friday of the month, go and enjoy the First Friday festival in the Augusta Commons area. It's one of my favorite things to do on a Friday night. You'll find live performances, music, art, vintage cars, fair food and more. Many of the downtown businesses host special First Friday events as well.
Saturday
Get a look at the local market. Take advantage of the cool morning weather and stroll down to the Saturday Market on the River. Grab a freshly roasted and brewed cup of coffee and some locally grown fruit to snack on for a light breakfast while you peruse the work of local artists and are serenaded by local jazz musicians.
Get some grub. Since you had a light breakfast, grab a good lunch—there are lots of cafes and restaurants to choose from. One of my favorite lunch spots is New Moon Café. They offer a good variety of soups, sandwiches and Panini's that are made with fresh, and mostly local, ingredients.
Get on a trolley. Hop on the Lady Liberty trolley for the Saturday Historic Trolley Tour. Hear the legend of the Haunted Pillar and Civil War stories. Learn about the bones in the Old Medical College basement and a rambunctious boy who grew up in Augusta and became a U.S. President. Tour historic downtown and get a feel for all the unique shops and restaurants that you want to visit and more! Sound like fun? Make sure you call ahead  (706-724-4067) and make reservations at least 24 hours in advance.
Get a glimpse of nature. Rent a canoe, pontoon boat, or jet ski from the Riverwalk Marina before setting off for a self-guided nature cruise down the beautiful Savannah River. If you prefer to hand over the captain's hat, try an Augusta Canal Cruise so you can just sit back, relax and enjoy the ride.
Get some seafood. Before you head out for a night on the town, stop by Rinehart's Oyster Bar for a "beyond casual" experience and enjoy fresh, simple seafood. My favorite thing on the menu is their fresh oysters, of course!
Get your groove on. A short drive down the road from Rinehart's, you'll find the Country Club Dance Hall and Saloon. Grab a friend and hit the dance floor. If you're feelin' lucky, go try and grab a balloon during the balloon drop and see if you've won a prize!
Sunday
Get to sleep late. After a late night, if you're like me, you'll want to sleep in a little. But don't worry, you can still make it in time to enjoy "Augusta's Best Sunday Brunch" at the Partridge Inn. Cheesy grits, bacon, biscuits and gravy, omelets, muffins, fresh fruit…you name it, they've got it!
Get a piece of Southern art. Take some time to explore the Morris Museum of Art. It's the first museum that is dedicated to Southern art and works of Southern artists. Admission into the Morris is free on Sundays.
Get something to take home with you. I never leave someplace without doing a little shopping first. Augusta has tons of cool shops for you to check out. Downtown you can hit Artists Row—a group of galleries and studios that sell local art and hand-made jewelry, The Book Tavern—a little bookstore packed full of new, used and rare books, Vintage Ooollee—a vintage clothing and accessories boutique, and any of the quirky antique shops—my favorite thing about antique shops is you never know what you'll find!
Looking for someplace to stay? Check out our hotel listings to see which Augusta hotel best fits your style and budget.