I was leaving the gym with my sister and we stumbled across a new frozen yogurt shop called Tutti Frutti. I felt like a kid in a candy store when we walked in. There is a large selection of frozen yogurts to choose from including almond, mango, green apple, cheesecake and several others. Then you have the toppings.
You could go healthy and choose from the fruit selection, or pick from the cereals, candy and other non traditional toppings.  They also give samples of the yogurt when you walk in. I had green apple and cheesecake yogurt and added strawberries, cheesecake pieces and granola.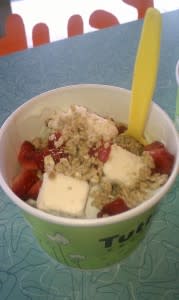 My sister had cheesecake and mango yogurt and added cheesecake pieces and love letter straws.  You pick your cup size, then your yogurt and toppings, and then you weigh and pay.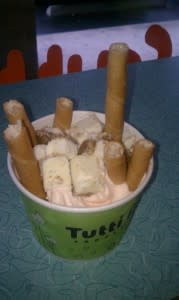 In addition to yogurt, they also have a selection of candy that can be purchased by the ounce.  If you want to get creative with your dessert, this is the place to go! I've been back twice already!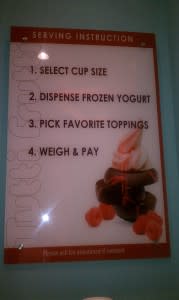 Tutti Frutti Frozen Yogurt Agerton Lane, Augusta, GA 30909 Hours: Mon - Thurs: 11 am - 10 pm Fri and Sat: 11 am - 11 pm Sunday: 12 pm - 10 pm