We just HAD to share the awesome blog from Sally Ann about one of Augusta's most fabulous artists. For more of Sally's awesomeness, visit her blog: http://www.sallyannk.com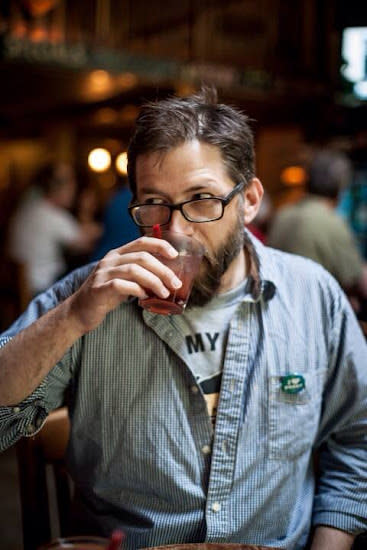 There are very few people that make such striking first impressions as Leonard 'Porkchop' Zimmerman. I'd been a huge fan of his work around Augusta for years, and I didn't actually meet him until the night before his gallery opening at Gaartdensity. A special friends and family showing, Matt and I were the last ones to arrive before close, and suddenly we were the only ones there. In the gallery was Matt, Leonard, the gallery owner and myself. Leonard walked me through the story of his collection, paintings of robots staring at the stars, and a bird on a robot's shoulder. The collection was the story of the sudden loss of his partner in 2006 to Leonard's path of grieving and living life thereafter. We hadn't known each other 5 minutes, and we both cried together as he told me stories of he and Brian. It was beautiful.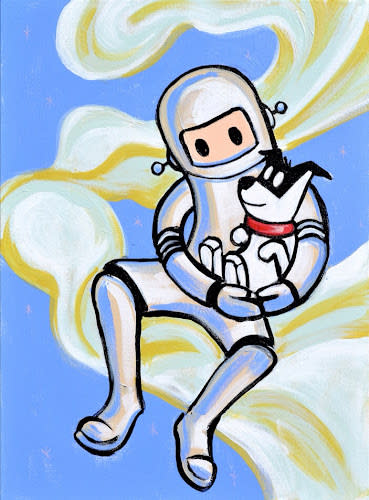 Since that gallery showing, I see Leonard all over downtown, having worked just a few doors down from Wier Stewart, where he works as a graphic designer. An Augusta native and SCAD graduate, you can always spot him in Downtown Augusta, in converse shoes (which may not be the same color shoe on each foot), and he's always chewing on candy or has a dum dum in his mouth. If you can't find Leonard, you're sure to see his Happy stickers around town as well.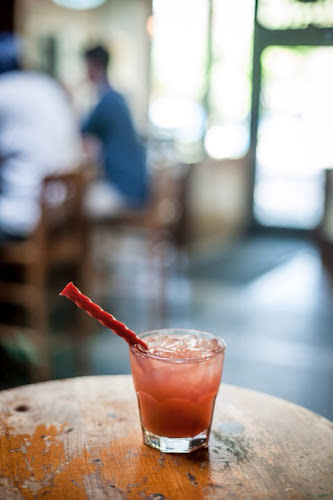 A connoisseur of sweets, it's an understatement to say Leonard has a sweet tooth. Mixology has never really been my thing, but of all the years I spent bartending, there is only one drink I can proudly claim to have created: The Porkchop. Sweet and fruity. And perfectly Porkchop. And now that I'm retired from F&B, this will be the only drink that is "by Sally". I'm quite proud of my concoction, and Leonard absolutely loves it!
The Porkchop:
Cut the end off the bottom side of a Twizzler, place in glass. Fill glass with ice.
1 oz. Mandarin Absolut Vodka + 1/2 oz. Raspberry Schnapps. Top off with pineapple juice. Bite off that first bit of Twizzler and you have your straw.
Make for your friends and have a Porkchop party! Get adventurous and add other candy garnishes! You can visit his site and see more of his work here.
Photos courtesy of Noah Fecks and Leonard Zimmerman. Find the original blog post here: http://www.sallyannk.com/2013/06/the-porkchop_7.html