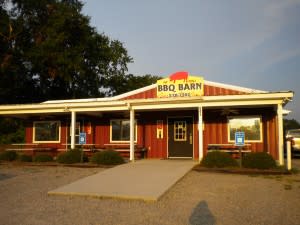 One of the best parts of living in the south is the abundance of barbecue joints, and this is especially true in Augusta. Since we are right on the border of Georgia and South Carolina we get to enjoy all kinds of barbecue goodness. The cooking method for the meat can be similar sometimes, but the sauces in Georgia tend to be more tomato based and the Carolina sauces use mustard and vinegar bases.  They are both delicious in my book!  When the weather is nice during the spring and fall, you can enjoy your barbecue on the patio.
When I start craving a delicious pulled pork barbecue sandwich, I head across the Savannah River to the BBQ Barn.  They have a really relaxed atmosphere, delicious food, and a variety of barbecue sauces to compliment their meat!  My husband and I usually get the pulled pork sandwich basket, which comes with your choice of side. My choice is almost always french fries, since they are always hot and fresh!  Add on a sweet tea and our bill is about $12. You can't beat that for delicious barbecue, especially when they also offer tasty desserts, too. We've tried the red velvet cake and the Oreo cake and they are both scrumptious!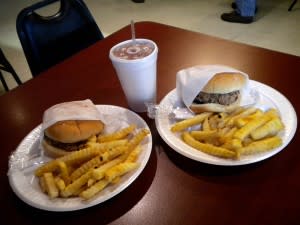 If you are in the mood to 'pig out' on some barbecue while you are visiting Augusta, you should definitely venture across the river to try out the BBQ Barn.
BBQ Barn 605 Atomic Road North Augusta, SC 29841 (803)278-7202