Back
Tapas are the Bee's Knees!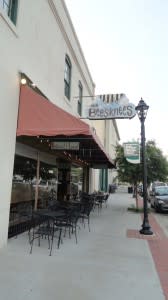 One of my absolute favorite places to eat in downtown Augusta is Bees Knees. It's a great place to meet friends and share great conversation and amazing food! Bees Knees is a tapas restaurant and lounge. The name itself suggests it's cool or hip existence.
Bees Knees is famous for their tapas. Tapas (by definition) are small, savory dishes perfect for sharing. And I can vouch for this. My friends and I frequent Bees Knees! We make it a rule that everyone has to order something different and we sample each others. It's great!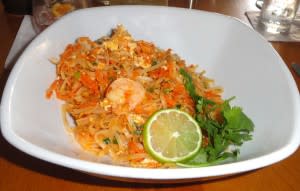 Tonight my friend Jennifer and I ordered our absolute favorite, the  Pad Thai, a spicy thai rice noodle stir fry with egg, cilantro, garlic, bean sprouts, carrots, & peanuts with your choice of tofu (vegan upon request), chicken or shrimp.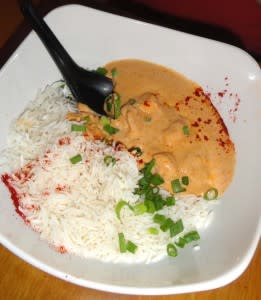 Cortney ordered the Coconut Curry Panang, a spicy thai coconut curry dish over basmati rice with your choice of tofu, chicken or shrimp.
Bees Knees is different because this restaurant takes a global approach to dining. They have a variety of dishes that represent cultures all over the world: Thai, Spanish, French, Japanese, Mediterranean and more! They even offer several options for Vegans and Vegetarians.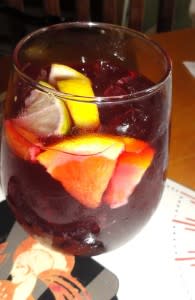 May I suggest you try a glass of their homemade red or white sangria with fresh, seasonal fruits, it is both delicious and refreshing.
We also ordered dessert—we had the delish crème brulee and tiramisu!
Bees Knees is only open for dinner during the week, but it open for Sunday Brunch and is also available for special events.
Hours of Operation: Tuesday - Thursday 5 - 11 p.m. Friday - Sunday 5 p.m. - 12 a.m. Sunday open for brunch 11:30 a.m. - 3:30 p.m.
Bees Knees Tapas Restaurant and Lounge 211 Tenth Street Augusta, Georgia 30901 (706) 828-3600