Back
Take Me Out to the Ballgame!
One of my favorite things to do during the summer in Augusta is to head out to Lake Olmstead Stadium and watch an Augusta GreenJackets game. They are the minor league baseball team in town, named after the Green Jacket that is bestowed upon the Masters Champion each year.  There is nothing like watching a ballgame on a summer night, with a hot dog and a cold beer!  The ballpark really is fun for kids of all ages! They have a playground and a bouncy house for younger kids and contests in between innings.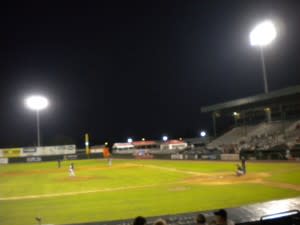 Recently, my husband and I went to a game with my best friend's family.  Her boys are 3 and 6, and they were so excited to go to the ballgame. They were fascinated by the mascot, Auggie, and kept their eyes peeled for 'the Bug!' while he made his way around the ballpark. Finally, he came to our section and they got to take a photo with him and have him autograph their t-shirts.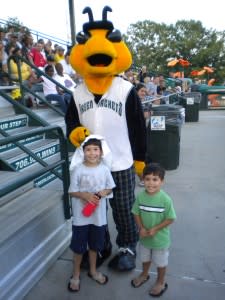 The stadium is usually pretty packed on the weekend, but it's fun to go on a weeknight, too. They have different promotions during the week, like Baseball Bingo on Wednesday nights and Thirsty Thursday, which is always a lot of fun!  You might even get lucky and see fireworks, if you happen to come to a home game on a Saturday night.  And since general admission is only $6, it is a great way to have some summer fun in Augusta!