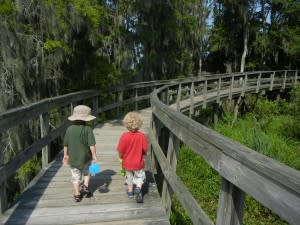 It was a perfect Saturday for a bug hunt. The boys were getting tired of the typical backyard bugs. So we loaded up and in 15 minutes were at the Swamp. Located on 1100 acres and just minutes from downtown Augusta, Phinizy Swamp Nature Park offers visitors the chance to see blue heron, red-shouldered hawk, otter, alligator and the elusive bobcat in their natural settings.
But today we were here in search of the summer dragonflies. With net and hat in place – we were off on the Cattail Trial to search for dragonfly. Once we hit the trail, the bugs were everywhere and the kids could not have been happier. I enjoyed the change in scenery as well.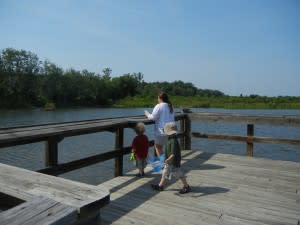 It is sometimes hard to believe this fantastic preserve is just down the street. As much net swiping was going on, we had not caught anything. No one seemed too upset. We were sitting in the shade in one of the outdoor classrooms when a dragonfly came up to William. He was so excited. It was a beautiful green dragonfly, we had also seen a few blue ones. I was pretty sure this was all about the hunt and not so much about the capture. That was fine with me since at the swamp does not want to you bother any of the creatures at the park anyway. When it came down to it, my bug hunters were only interested in looking at the bugs and not the least bit interested in capturing or touching them.
We also saw lots of beautiful vegetation along the paths - magnolia, some raspberries and other unidentified plants. The trails are really great with lots of information along the way. There are several good spots for picnics. We only explored two trails on this day. There are so many different trials to take. Some are good for bikes, some are good for running and of course some are good for bug safaris with two little boys.
Natural Sciences Academy Phinizy Swamp Nature Park
1858 Lock & Dam Road Augusta-Richmond County, Ga 30901
Open Dawn to dusk: Every Day Free to public
706-828-2109
www.naturalsciencesacademy.org