Back
Specials at the Augusta Visitor Center
It's hard to believe that October is finally here! Thankfully, it is bringing very pleasant weather to the Garden City. While you are visiting downtown, you should stop by the Augusta Visitor Center, located inside the lobby of the Augusta Museum of History.  During the month of October the 'Play Augusta' t-shirt is on sale for 20% off.  What better way to show off your pride in Augusta, than to sport one of these tees?  This is just one of the Augusta souvenirs that the Visitor Center has to offer, along with many different products made in Georgia, like pecan brittle and muscadine cider. You can also find specialties by Augusta's own Very Vera, who was recently featured on Throwdown with Bobby Flay.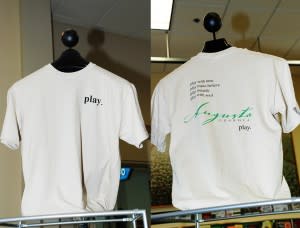 Throughout the rest of the year, there will also be other items on sale, including peach jam and Augusta canvas tote bags, which are both great ideas for the upcoming holiday season. You can also find a wealth of information on things to do and where to shop and dine in Augusta!
Augusta Visitor Center 560 Reynolds Street (706) 724-4067 Monday - Saturday: 10 a.m. - 5 p.m. Sunday: 1 - 5 p.m.