Back
Soy Noodle House in Downtown Augusta, Georgia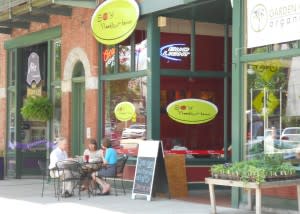 I was craving Pad Thai – and you know how it is when you are craving Pad Thai. There really is no substitute. So I fed my craving at Soy Noodle House on Broad Street in downtown Augusta, Georgia. I went a little early around 11:30, apparently that is not that early. There were plenty of people already there. However, I did manage to get a seat by the window, so I could watch the lunch crowd go by. The Pad Thai hit the spot. The portion was bigger than my head – honestly. And of course I thought 'there is no way I can eat all this', but alas I did. Yummy. It was such a nice day – the folks sitting behind me asked if it was okay to move to a table outside, which they did. Next time I think I will sit outside as well. One other thing I would like to mention about Soy Noodle House….their unsweet tea was exceptional. I mentioned this to my server, Brittany, and she said that is the very last thing they do before the lunch crowd arrives. So it is always fresh and strong. I loved it.
Soy Noodle House
1032 Broad St, Augusta, Georgia.
Open 7 days a week 11 a.m. until 10 p.m.
706-364-3116