Back
Say It Out Loud, I'm Mellow and I'm Proud

Recently I tried the Mellow Mushroom in downtown Augusta for the first time. If you're hungry at this moment, then don't worry. I'm gonna keep things short and sweet so you can go eat at Mellow Mushroom too!
Top 5 Reasons why Mellow Mushroom is awesome: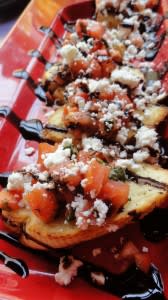 1. Bruschetta is betta with Feta. I'm a tomato lover. I'm also a carb lover. And a cheese lover. Give me tomatoes, fresh basil and feta on bread and I'm in heaven. Try it and you will be too.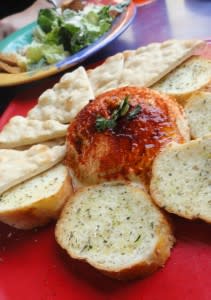 2. Hummus. This was my first experience with hummus. I was a little skeptical about something made out of mashed up chickpeas, but boy was I wrong. After eating almost all of it, I felt the need to write an equation that would demonstrate my newfound feelings. Hummus + Pita Bread = True Love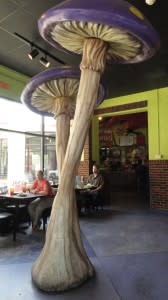 3. Atmosphere.  I think I should mention that it looks like a hippie exploded in the restaurant. Bright colors, retro flowers, a HUGE mushroom in the middle of the room. It's fun and relaxing. And if my Uncle Tony were to walk into the room he might say (in his best hippie voice) This is so rad, maaaaaan. Right on.
4. Service. Our server was perfect. She was friendly, quick to fill our drinks and very helpful.
5. Location. I love downtown Augusta. It's where I work and where I like to play. Stop by for Trivia Night on Tuesdays, after a GreenJackets or Riverhawks game, or before you head out for a night on the town.
Mellow Mushroom
1167 Broad Street, Augusta Ga
706-828-5578
http://www.mellowmushroom.com/
http://www.facebook.com/#!/pages/Mellow-Mushroom-Augusta/110784081977