Back
Saturday Adventure at Clarks Hill
On Saturday afternoon, Granddaddy called and asked if the boys wanted to go fishing. Of course! From downtown Augusta, it is about a 30-minute ride to the Strom Thurmond Dam boat ramp. Dad loaded up the boys and off they went.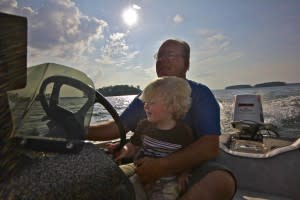 The trip was more about the adventure than anything else. The boat ramp was full after a fishing tournament that morning. There was so much to see! They rode the lake for a while before finding a quiet corner to do some fishing. No one volunteered to touch the fish, but in the end it was a great trip.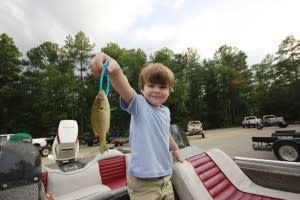 Clarks Hill Lake is also called Lake Thurmond. I think it just depends what side of the lake you are from. The Georgia side folks say Clark's Hill and the South Carolina side says Lake Thurmond.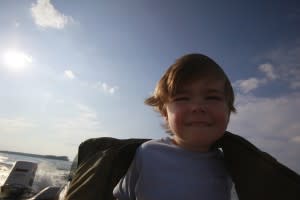 Thurmond Lake comprises nearly 71,100 acres of water with a shoreline of 1200 miles. The lake is one of the southeast's largest and most popular public recreation lakes. Built by the U.S. Army Corps of Engineers between 1946 and 1954 for flood control and for hydropower. Each year, millions of people utilize the many public parks, marinas, and campgrounds.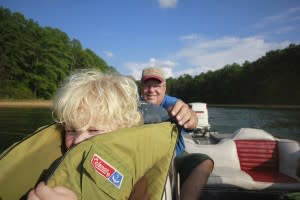 For more info on the lake and all its recreation:
http://www.sas.usace.army.mil/lakes/thurmond/
Or stop by their welcome center: J. Strom Thurmond Dam and Lake 510 Clarks Hill Highway Clarks Hill, SC 29821 1-800-533-3478