Back
Sacred Heart Garden Festival
I'm a dream gardener. As in I dream big. I have these grand ideas of this beautiful backyard paradise that I'll develop from scratch and plant with my own two hands - complete with lush greenery, gorgeous flowers and a bountiful garden. I think one day I'll actually make it to my dream, but until then I try in vain not to kill window boxes (apparently they need a lot of water) and take great pride in the fact that I can work wonders on my front yard with petunias.
I also drool over fancy gardens in magazines and can lose hours watching HGTV. But my favorite window (and some actual) shopping for my dream garden is the Sacred Heart Garden Festival. Held annually over the last weekend in April, the Sacred Heart Garden Festival provides an opportunity to learn, plan, shop and get ideas from gardens that are the envy of Augusta. The festival includes workshops by master gardeners, vendors and admission to tour the gardens of private homes.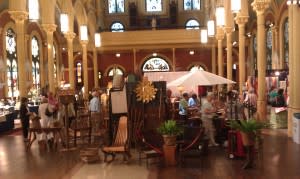 The Sacred Heart Cultural Center - a one-time catholic church that is a beautiful attraction in its own right - is filled with garden vendors. You can buy everything from vases to scarecrows to beautiful bird houses. Home items are also available. I almost took home this beautiful rocker (I really need a front porch).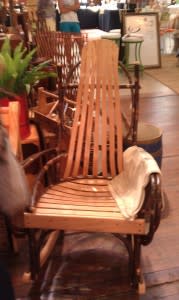 Head outside and find even more vendors that have unique garden art, neat little hanging mechanisms and all the plants you could hope to find.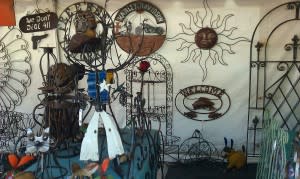 And then, my favorite part, the dream gardens. Local landscape architects and nurseries create sample gardens. And although I always say that I really want the first one that I see, then I see the next one. And the next one. And the next one. I want them all. They are fabulous, and many of the creators actually provide schematics for each that detail directions and exact plant types. I went home with several big ideas for my one day garden.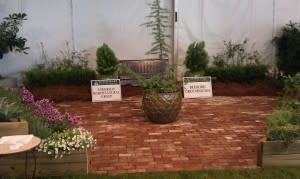 Unfortunately I didn't have time to do the garden tours. But there's always next year….
Sacred Heart Garden Festival
April 27 – 30, 2012
www.sacredheartgardenfestival.com