Back
Row, Row, Row Your Boat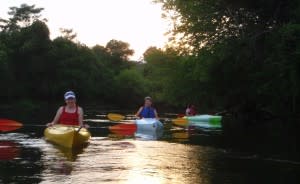 A few days ago, I met some friends for a leisurely paddle up the Savannah River.  Our route took us up river, then up Rae's Creek to Aqueduct Park, back to the river, up around a few islands and back to a boat ramp in North Augusta where we began.  Starting just a few hundred yards up river from downtown Augusta, it looked like this: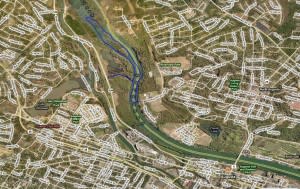 The weather was beautiful and there's nothing quite as nice as getting on the river on a warm summer evening.  We looked for fish, turtles, ducks and other wildlife while we paddled up Rae's Creek towards Aqueduct Park and met a man Stand-Up Paddling.  It looks like something fun I'll have to try!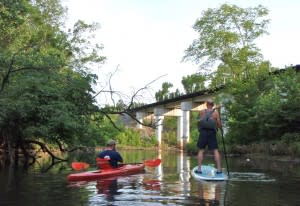 Aqueduct Park is a great spot to cool off and a lot of folks were taking advantage of the cool water!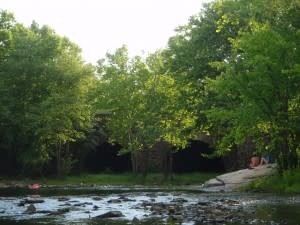 Coming back to the river, we paddled upstream passing small islands and beautiful Spanish-moss covered cypress trees.
We struggled against the current a little ways up the shoals and were rewarded with a fun ride down some very small rapids.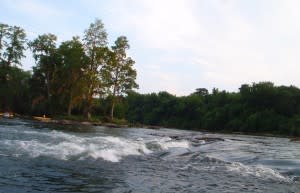 If you'd like to kayak or canoe on the Savannah River, you can rent both from Broadway Bait & Tackle or rent canoes from the Riverwalk Marina.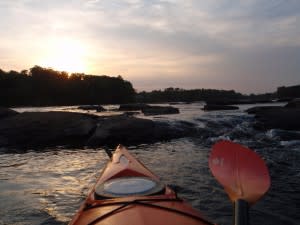 Broadway Bait & Tackle
1730 Broad Street (at the canal)
Augusta, GA 30904
(706) 738-8848
Riverwalk Marina
1 5th Street Augusta, Georgia 30901 (706) 722-1388