Back
Random Act of Culture in Augusta, Ga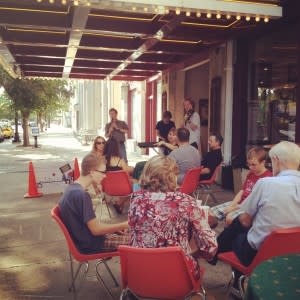 I got to see a random act of culture on the streets of Augusta this past Tuesday. A group  from out of town called the 6th Floor Trio set up below the Imperial Theatre marquee and played for an hour before moving on to the Riverwalk to play some more. The concert was free and the trio encouraged anyone passing by on the street to stop and listen.
(Click here to see part of the concert on YouTube.)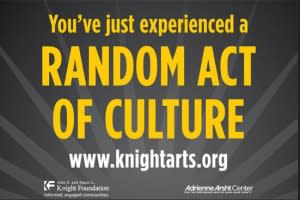 After a little research on the internet, I learned that people all over the United States are experiencing random acts of culture thanks to a grant program through the John S. and James L. Knight Foundation. I'm talking opera performances in the Philadelphia Ikea, ballet performances at the Miami airport and brass quintet performances in the Macy's in St. Paul. This movement is pretty cool and is kind of a big deal. I've got my fingers crossed that we see more random acts in Augusta very soon.