Back
Playing Dress Up In Augusta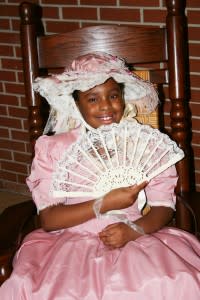 Talk about having a good time dressing up! If you need costumes for any occasion you should visit Costumes By Michelle, located at 1125 Broad Street. This is a wonderful place to experience history through costumes.  Michele is not only a wonderful designer, but she is a historian in her own right with a multitude of period costumes.
My daughter has an upcoming historic presentation at school. There are two third grade classes at her school, and each class will be putting on an exhibition of famous Americans during the 1800's. Each child will be dressed as a character from this era. My daughter Kaitlin has chosen Mary Todd Lincoln who was the wife of the 16th President, Abraham Lincoln.
This is where Michele's expertise came in to play.  She assisted my daughter in finding the appropriate costume to wear.  The costume that she will be wearing is a beautiful rose colored chiffon cream lace dress with a Victorian neckline. Accompanying the dress will be two gorgeous crinoline slips that will accentuate the fullness of the dress.  Her hat will match the dress with a big feather and lace, with a ribbon that ties under her chin with a big bow.  She will also carry a cream lace hand held fan for cooling herself as she models and explains who Mary Todd Lincoln was as a famous American.
Michele also proved her professionalism by amusing my 4 year old Lauren who was determined to try on every costume in the store.  She is a true professional with an enormous amount of patience with her clients, young and old. The entire process of finding a costume was a joyous experience.