Back
I scream! You scream! We all scream for....strawberries!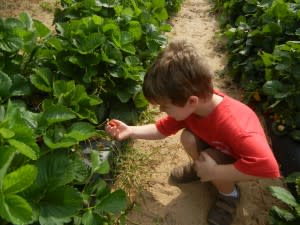 Just 15 minutes from downtown Augusta, Georgia, is a great place to pick your own strawberries, blackberries and asparagus - Gurosiks' Berry Plantation. We recently went on a field trip with William's 4K class to pick strawberries and they loved it.
It is a big farm with lots of activities for the kids. Of course, the main attraction was picking strawberries. You are given a quick class on the proper way to pick and which berries not to pick. And then you are sent out to the field to discover and uncover strawberries. With lots of squeals from the class of adventurers, we collected two containers full in about 15 minutes.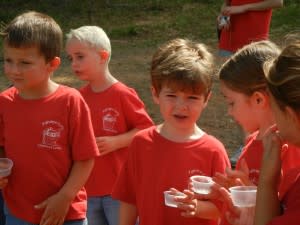 But the fun was not over yet, the Gurosik's next took us to see their bee hive. We did not actually get too close to the bees, but we did get the sample their honey. Fantastic.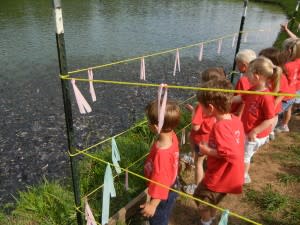 From there they took us to see their catfish pond. And yes – everyone fed the fish. The kids loved it, but not as much as the fish. There were tons of them.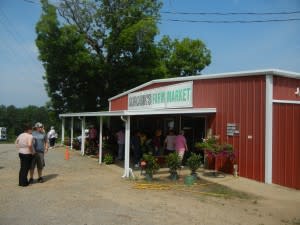 Then it was lunch time under a covered pavilion on picnic benches. It was a really great day. Before heading off I made William walk through the market with me. The farm market had clean restrooms and ample parking offering pre-picked berries, a full variety of fresh produce, many professionally processed products from the Gurosik's, hanging flower baskets, fresh cut flowers, hybrid blackberries, blueberries, peaches, purses and jewelry.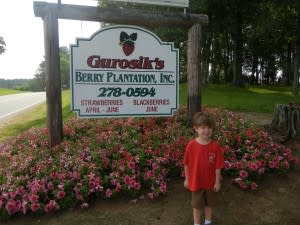 Gurosik's is a 100 acre family farm. Clyde and Marilyn Gurosik have been working on the farm since 1981. Clyde attributes his passion for land preservation and strawberries to his deceased parents, who established strong values and principles. Marilyn was a school teacher until the farm got off the ground – and you can really tell on these school visits about her background. Seasons: Strawberries – April through July 4 Blackberries – Late May through July 4 Asparagus – Early April through May
Gurosik's Berry Plantation
345 Briggs Rd
North Augusta, SC 29860
803-278-0594
http://gurosiksberryplantation.com/