Back
Par 3 Wednesday at The Masters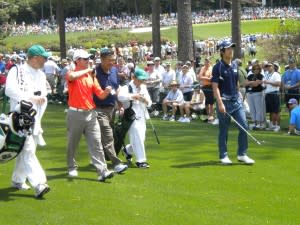 I've always felt like the Wednesday of Masters, and along with it the Par 3 Tournament, was kind of a magical day.  Sure, the players are gearing up for the biggest tournament of the year, but just the day before the competition begins they are relaxed and jovial and seem to be enjoying their time with each other and the patrons.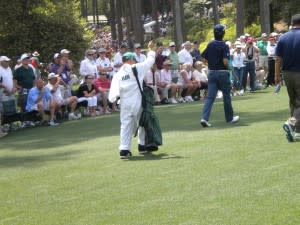 If you've never been to the Par 3 Tournament, or seen it on TV, it is a unique experience.  While not a required part of the week, many golfers take the opportunity to playfully compete in a 9-hole tournament on another part of the Augusta National's property.  Tradition allows for the players to have a friend or family member caddy for them, and many opt to have their children carry their clubs for the day and help with the tough shots.  Ages of the caddies range from three years old on up to teenagers, and there's nothing cuter than to watch one of the little ones line up to make Dad's putt.  (Don't worry about child labor, the bags are significantly lighter since fewer clubs are needed, and many of the golfers wind up carrying their own bag.)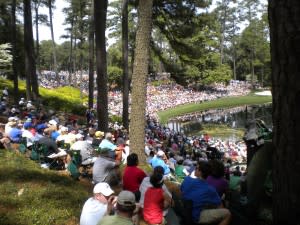 Another great thing about Par 3 Wednesday is that many past champions who are no longer on the tour come back to play.  It's a fantastic opportunity to see some of the greats back in action.  This year was particularly special since Arnold Palmer, Jack Nicklaus and Gary Player were grouped to play together.  The applause and ovations as the three were coming up to the 9th Green was unbelievable.  And watching Arnie sink that long putt was amazing.  That was the perfect end to a fantastic day on the course.