Back
Old McDonald had a Fish Camp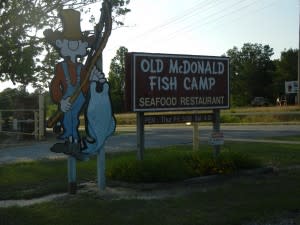 My sister was in town from New Jersey this weekend, so I thought I would take her someplace completely different.  Now, remember I am the one with two boys (ages three and five), so it had to be family friendly. The perfect choice was Old MacDonald Fish Camp in Edgefield County, South Carolina. It sounds further away than it actually is—just a 12 mile drive from Augusta.
There is a lot to say about this experience. We went early. It was 5 o'clock on a Saturday and we did not have to wait. But if we had come about ten minutes later, we have had to wait.
Okay – first things first. This is the only restaurant I have ever been to that has a "Grits and Hushpuppy Bar." Yes – like a salad bar, but just grits and hushpuppies. My sister thought this was amazing. And, really, it is. The grits were also a big hit with the kids.
The menu has all sorts of seafood – fried or broiled. My sister ordered the boiled shrimp. I had the Low Country Boil. I had to explain to my "northerner" sister, that low country boil is boiled shrimp, sausage, potatoes and corn. Jacob and I shared. Fantastic!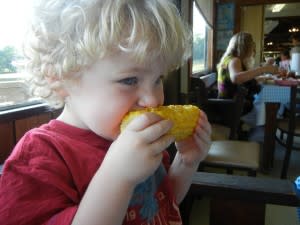 I also highly recommend the sweet tea. I only have sweet tea on special occasions. And this was one of those times. Our waitress brought over the entire pitcher finally because I just kept sucking it down. It was so tasty and served in a Mason jar. Loved it.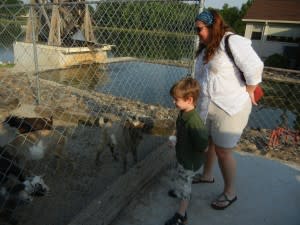 After dinner we did stay and play for a little while. The restaurant is on a pond with a waterwheel. It also has a ducks, goats and chickens for the kids to feed for a nickel.  Very fun. So if you do have to wait – there is really no problem keeping entertained. I am sure some actually might be disappointed if they get seated right away.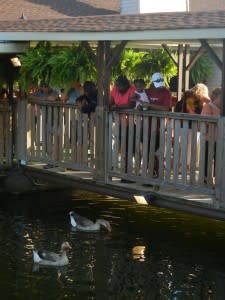 So I asked my sister after the big adventure – was this something she could do in New Jersey? She said absolutely not and it was a great experience. I agreed.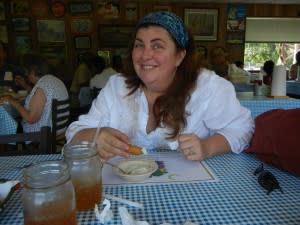 Old McDonald Fish Camp 355 Currytown Road North Augusta, SC 29860 Phone: 803-279-3305
OPEN 5:00 pm Thursday & Friday OPEN 4:00 PM Saturday