Back
November 2013 Weekend Whirl
We all need a little weekend getaway to keep things fun and to relax a little. November in Augusta, Ga brings cooler weather and bright fall colors along the Augusta Riverwalk and the Canal. Start planning your weekend whirl for November 8 – 10, 2013. Click here to see which hotels are available for the weekend.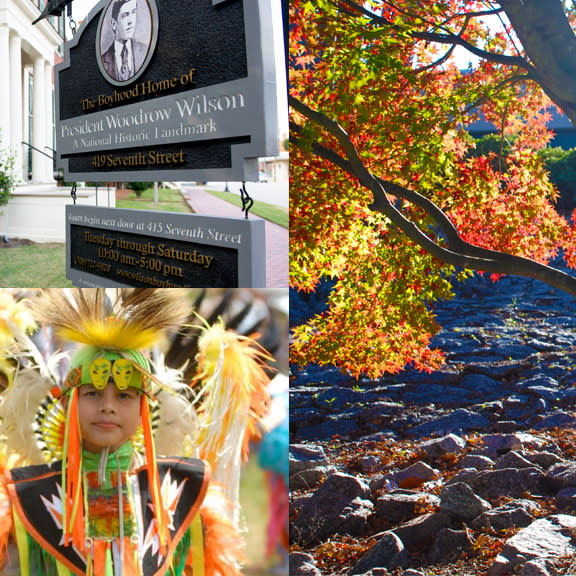 What to do: Whether you want to learn about Augusta's past, explore outside or celebrate culture, Augusta has lots of new experiences to offer.
Learn about the role Augusta played during the Civil War. Dr. Stephen Berry, associate professor of history and Gregory Chair in the Civil War Era at the University of Georgia presents: Lincolns and Todds: A House Divided on Friday evening.  The program continues on Saturday at the Morris Museum with a series of lectures and performances by noted historians.  View a special exhibition of Civil War themed artworks in the education gallery. Advanced registration required for Saturday.
Enjoy the fifty shades of autumn along the Augusta Canal. Sid Mullis, UGA Extension service for Richmond County, and Judy Gordon, Ph.D., botanist at GRU, lead a walk along the canal that celebrates the fall season. Augusta's autumn colors often peak in early to mid-November. Falling leaves reveal species you might not otherwise notice. Admission is $2. Visit AugustaCanal.com for more information.
Immerse yourself in Native American culture. Phinizy Swamp Nature Park will host the Oka' Chaffa Indian Festival and celebrate Native American culture with live Native American dances and songs, storytellers, wildlife displays, live buffalo, arts and crafts, and a Living Tipi Village. Admission is $12 for adults and $6 for children (ages 6-12). For more info, visit NaturalSciencesAcademy.org.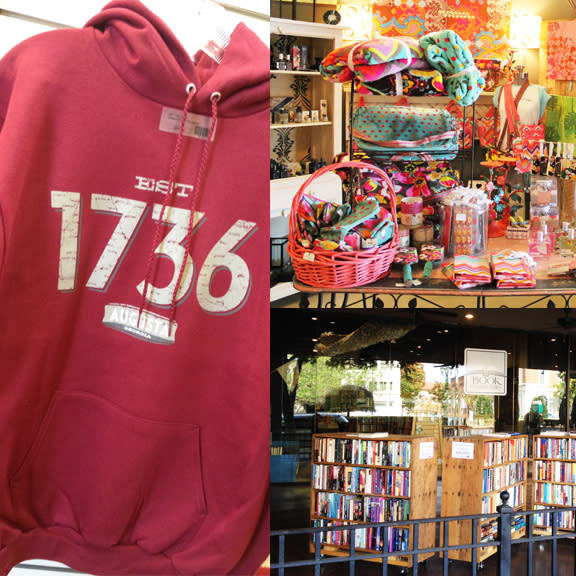 Where to shop: You won't have to worry that someone at a holiday party has the same necklace as you. You won't have to give your dad another tie as a gift either - when you shop at Augusta's local boutiques and stores.
Get swanky home swag with Southern charm. Capture a bit of Southern sass for your home with fun picture frames, quirky wall art and lots of cute accessories and stocking stuffers at The Swank Co.
Build a better library. Spend a little time chatting with the friendly folks at The Book Tavern about your favorite authors or books and let them make suggestions for what to read next! Or browse through their selection of new, used and rare books on your own to see what you discover. We promise it's not your average chain bookstore experience!
Get an Augusta hoodie to take home. Cooler weather means it's time to break out the hoodies! You'll have plenty to choose from along with men's polos, hats, sunglasses and lots more Augusta themed gifts at the Augusta Visitor Center located inside the Augusta Museum of History.
What to eat: The local food scene in Augusta makes it hard to choose – but here are a few suggestions. You can always come back another weekend and try more!
Fish & Chips. Augusta's local English-style pub – Boar's Head Public House – serves up a mean fish & chips dish along with other English pub food like bangers & mash and Sheppard's Pie. After dinner, stick around and play darts or chess with an imperial pint of British ale.
Soul Food & Sweet Tea. The Cotton Patch takes comfort food seriously. Classics like fried pork chops and macaroni & cheese are served up on big plates with generous portions. They also believe sweet tea is an art – you won't find a better brew anywhere around town.
Spaghetti & Meatballs. Luigi's has been a downtown establishment since 1949. Take a bite of their spaghetti & meatballs with garlic bread and you'll know why. Don't make any plans after dinner. You'll leave happy and full – the perfect combination for a nap!
Want more info? Visit www.AugustaGa.org for a full calendar of events and list of restaurants and attractions.