Back
National Barrel Horse Association World Championship Trick or Trot Evening at the James Brown Arena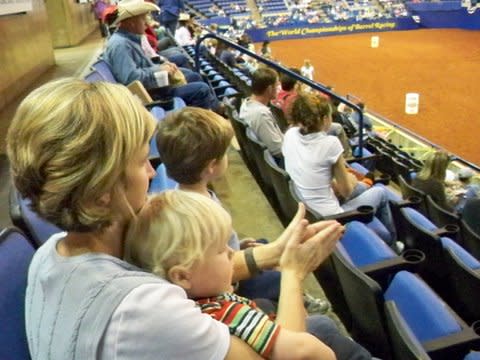 On October 29, I took my kids and sister visiting from New Jersey to Trick or Trot Night at the National Barrel Horse Association World Championship in Augusta, Georgia. It was fabulous! Really hard to put into words how entertaining it was and how much fun we all had.
The NBHA hosts a week of fabulous competition in Augusta – but they take this one night off just to goof-off a little. They held a few demonstration races. Pitting countries against each other – Brazil had the fastest time making their way around three barrels. I think the time was less than 12 seconds. They put the cowgirls against cowboys – the girls won with the fastest time. Then they put out just one barrel with a bottle of soda on it. And in less than 8 seconds a rider was able to ride down pick up the bottle and return. It was so much fun to watch.
Between competitions - they played energetic music and these amazing tractors would race out and level the field. I am serious they were super, super fast. The kids loved it. And did I mention kids and grown-up alike were encouraged to attend dressed-up. Then they could trick or treat with the show vendors. But back to the arena floor, I cannot forget to mention the one dancing cowboy who did a great job with Beyonce's "Single Ladies."
But to cap off the two hour show, which my kids did sit still for the entire time, was the Trick or Trot parade when horses and their owners came out in costume! The boys loved it. My favorite was the horse dressed up like a giraffe. So creative. There was also a scuba diving horse with fish, Moss Man Horse, Bumble Bee Horse, Noah's Ark horse…I guess you kinda have to see it but it was really funny. I stole a few photos off the Augusta Chronicle website to share. Thanks Chronicle. spotted.augusta.com
I encourage anyone in the Augusta, Georgia area to attend the NBHA Trick or Trot night. It was a perfect family fun night in Augusta. Heck this one is even worth traveling from New Jersey to see.