Back
Mountain Biking Minutes from Downtown Augusta
Situated between the Savannah River and the Augusta Canal Towpath is one of the area's best kept secrets.  Chances are many have ridden right past it not knowing this hidden gem is awaiting their arrival.  It winds like a serpentine through the dense urban jungle, only 10 minutes away from downtown Augusta.  And just like a serpentine, it will strike if provoked.  It's the Augusta Canal Singletrack and it's poised for your tread.
The Canal Singletrack is a 3-mile, well-established trail that surprisingly enough, few people know exist.  Located next to the Pump Station halfway between the Savannah Rapids Pavilion and downtown Augusta, the Canal Singletrack is one of the CSRA's most convenient trails.  The trail was built in the early nineties by local mountain bikers wanting a place to ride with out the long, pre-ride drive.  This was before FATS so the closest trails were a 30-45 minute drive (still not bad compared to other areas).  The story is that there were some pre-existing deer trails in the woods and the crew simply built more trail off of the deer creations.  And to this day you will see deer using the trails and hear them slicing through the woods.  Being that space was limited due to the surrounding water, they had to really focus on maximizing trail length per square foot.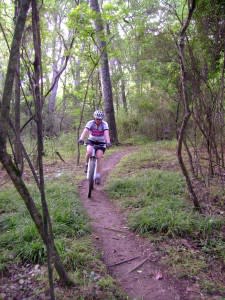 In an effort to create as much fun possible in a small area, the Canal Singletrack is one of the tighter, more technical trails.  It's full of close radius turns, steep descents leading to nearly 180-degree turns, and every other type of turn imaginable to keep riders on their toes (or fingers on the brakes).  It has a several gulleys to ride along the river, including a nearly 8 ft. deep gulley that riders can dive into at speed and shoot out the other side with only a couple pedal strokes.  But the Canal Singletrack is not all tight turns and gulleys.  For the big ring kings, there's a nice open area along the retention ponds that allows riders to "open it up."  This is a great section for setting a top speed record.  Just make sure you're riding the trail in the correct direction, clockwise on odd days and counter-clockwise on even days.
Other highlights of the trail include a 90 ft. long, 3 ft. wide, elevated boardwalk that was built by SORBA-CSRA (the local MTB club) with contributions from Fred Russell, Mulherin Lumber, and the late Dick Fox.  The boardwalk was constructed as a fix for an area riddled with drainage problems and makes for a very unique riding feature.  There is also a tall, steep set of stairs above the trailhead made from old railroad cross ties that riders can bomb down.  If a physical and technical challenge is desired, try riding straight up the middle of the "stairs" without putting a foot down.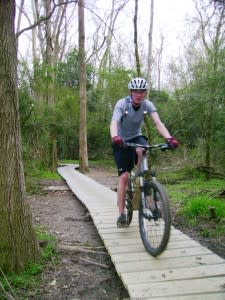 It's easy to see why the Canal Singletrack is still going strong.  It's well-maintained, super fun, there's a good chance for wildlife sightings, it's near the water, and it's in the middle of downtown Augusta.  Local mountain bikers are very fortunate to have this type of offering in such a convenient location.  Now that the secret is out, go explore one of Augusta's hidden gems!
Blog submitted by local cycling enthusiast Drew Jordan. Thank you Drew!