Back
Mountain Biking in Augusta
Mountain biking is a great activity to explore the area around Augusta.  With over 100 miles of single track, you can take your pick from all sorts of trail options.  This weekend we decided to check out a new section of Bartram trail that connects two parks at Lake Thurmond.  The new section extends the length of the original trail to 18 ½ miles one way from West Dam Park to Wildwood Park while passing by Spring Lakes and Petersburg Campground.  Depending how far you want to ride on this in and out style of trail, you can start at any of the four trailheads.  We met up with friends at the trailhead just outside the Petersburg Campground to ride the new section that extends towards Wildwood Park.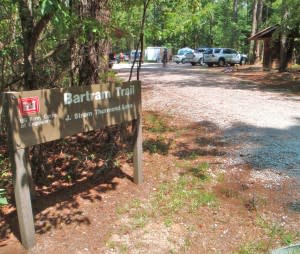 The new trail is considered intermediate level and was designed with exciting banked turns, dips, and jumps.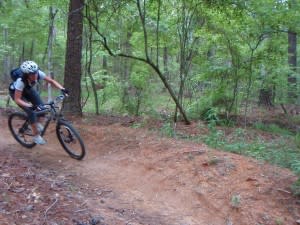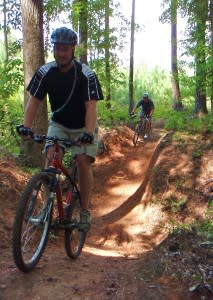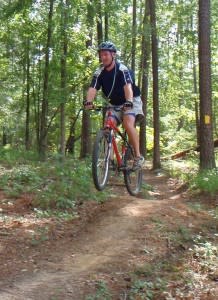 With all those fun features and the occasional beautiful view of the lake while meandering through the woods, this trail could easily become a favorite of mine!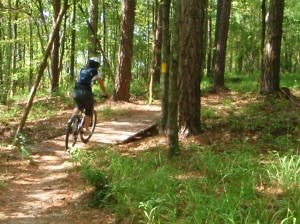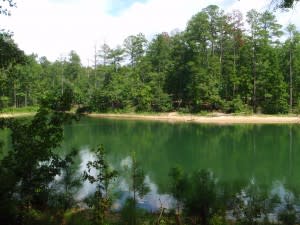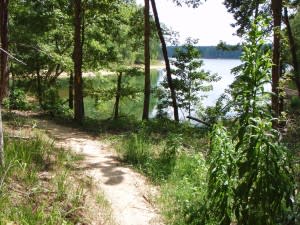 If you'd like to ride Bartram Trail or explore some of the other trails in the area check out SORBA-CSRA, our local mountain biking club. Their website  and forum are great resources for biking information and directions.
If you need to rent a mountain bike during your visit, contact Chain Reaction Bicycle Shop at (706) 855-2024.
See you on the trails!