Are you ready to RUUUUUUUUMMMMMMBBBBBBLLLLLLEEE?  Did you bring your ear plugs?  Because you'll definitely need them at the Monster Truck show that my family and I recently attended at the James Brown Arena in Augusta.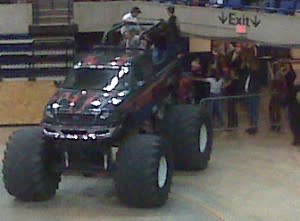 There's never a shortage of things to do with your family in Augusta, and this Monster Truck, Freestyle Motorcross, ATV, and BMX show was certainly an example of that.  My husband, my 16 year old step-son, Matt, and our 6 year old son Brandon had a blast watching these incredible machines smash old jalopies to smithereens. The boys, couldn't take their eyes off of (not me, some of the time I covered my eyes it was so dangerous) the motorcycle and ATV riders as they took death defying leaps into the air, flipping from one ramp to another and even doing handstands on the handlebars.  The skill of the BMX bikers was incredible as they powered over ramps, jumped over a girl sitting in a chair, and made their bikes bend in their hands like silly-putty.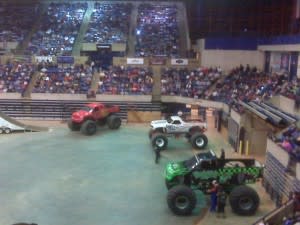 The entire show was really family friendly.  After it ended the riders signed hundreds of autographs for kids and fans of all ages.  Of course the popcorn and Coke was a treat and the company of our neighbors in the seats nearby was great!
We've still got the earplugs, ready for the next time we're ready for the roar of monster trucks, the sweet smell of exhaust and the awesome aroma of burning tires!
Check out what you can take your family to see and experience at Augusta's James Brown Arena at http://www.augustaentertainmentcomplex.com/.