One of my favorite lunch spots in downtown Augusta is the Mellow Mushroom! Not only do they have the best pizza in town in my opinion, they offer great service and a quick lunch menu.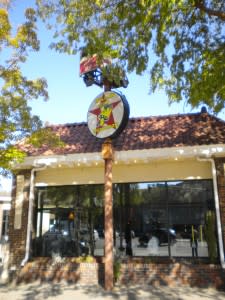 I usually get the slice and salad offered on their lunch menu.  This is the best of both worlds-a treat and something healthy. It's one of the best cheap, quick lunches in town! I also enjoy the garlic pretzels with marinara sauce. They come straight to your table warm from the oven and drizzled with a little bit of Parmesan and butter, and they're so good!
Whether you have little time, or as much time as you want, make sure to pay Mellow Mushroom a visit! Enjoy!
Mellow Mushroom 1167 Broad Street Augusta, GA 30901 (706)828-5578