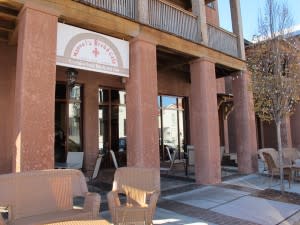 Tucked away in the beautiful neighborhood of Hammond's Ferry on the Savannah River in North Augusta, you'll find Manuel's Bread Café. The menu is centered on local, fresh ingredients, most of which are grown in Blue Clay Farms (the community herb and vegetable garden). I love going to Manuel's because I know that I can always expect awesome food!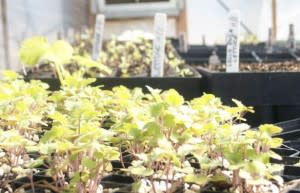 Today, my husband and I went for lunch. Since the weather was a bit hot we decided to sit inside although there were plenty of people who chose to sit in the shade outside.
Our server suggested fresh blackberry lemonade to drink and we both ordered it. On a hot afternoon, it was…well…perfect! This is not some instant lemonade, it's the real deal, so if you go and they've got it, get it!
My husband ordered one of the daily specials, a grilled chicken and pepper jack sandwich, and so did I, cabbage and roasted pork soup. As is the tradition when we go out to eat, I had to try Josh's food (since he's not a fan of cabbage, I didn't have to share!). The sandwich was delicious—fresh baked ciabatta bread was perfectly crunchy on the outside and chewy on the inside, the chicken was juicy and well seasoned and the pepper jack cheese gave the sandwich just the right amount of spice.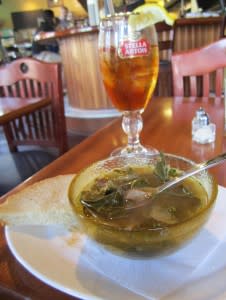 My cabbage soup was ideal since I wanted a lighter lunch. It wasn't overly salted so I could taste the balance between the fresh cabbage and the smoked pork. I asked for extra bread so that I could soak up the broth—awesome!
The servers are always helpful and friendly when we go, so I never feel rushed or ignored. Manuel's is one of those restaurants that I can go alone with a book, on a date with my husband, or with friends and family and always have a wonderful time!
http://www.manuelsbreadcafe.com/
505 Railroad Avenue Suite 100 North Augusta, SC 29841 (803) 380-1323