Back
La Dolce Vita Salon and Spa in downtown Augusta, Georgia
I know it might seem weird to blog about where you get your hair cut, but it is such a fun experience at La Dolce Vita Salon and Spa in downtown Augusta, Georgia -  I thought, what the heck? Sometimes you just might want to be pampered when you are in Augusta and this is a fun place to do just that.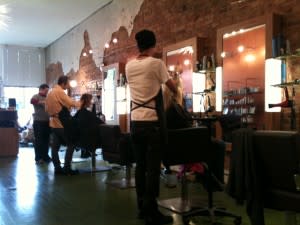 La Dolce Vita Salon and Spa in located on Broad St. Within walking distance of plenty of shops and restaurants. Also within walking distance of the City Conference City and the Augusta Riverwalk along the Savannah River.
The Salon has a great mix of old and new. The walls show the exposed brick that look as if they survived the great Augusta fire of 1916. The floors also look like the original wood plank floors from the turn of the century. But of course then there is the mix of funky music and modern art.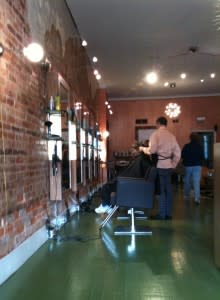 La Dolce Vita Salon and Spa actually even has its own philosophy. "To create an environment where our stylists can embrace their individual artistic spirits while providing you with the excellent customer service you deserve. Our pride is in the community we serve and we lead our business with one basic truth: our team + our clients…our family."
I have not made it yet to the spa…but Mother's Day is coming. La Dolce Vita Salon and Spa 1141 Broad Street Augusta, GA 30904 (706) 724-0040