Back
I heart New Moon (No, not the movie)
Once upon a time, a hippie fell in love with a foodie. They had a baby and called it the New Moon Café. OK—maybe that's how I like to picture it in my head. But seriously, if you have never tried what The New Moon Café has to offer, you're leading a deprived life.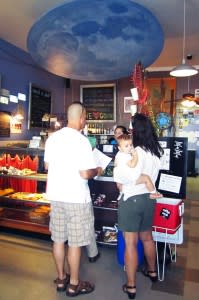 When I started working in Augusta, I didn't have time to eat much more than cereal before work. That got real old, real quick. Enter New Moon Café. My first time there was the end of May, and even though it was only 8 a.m., it was already warm outside, so I didn't exactly want a steaming bowl of grits. Thankfully, they offer build your own smoothies. Now, I'm not going to say that they put crack in those smoothies to reel you back in for more, but I WILL say that I was at New Moon almost every morning for the next two weeks to get one.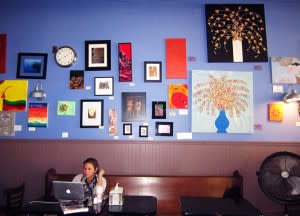 What I love the most is the atmosphere. It's really laid back and the art that covers the wall is made by local artists and is all for sale, so it rotates pretty often. I love going in to see what's up and who made it and listen to people argue over what they think it is or isn't. Sit outside and people watch, sit inside on the couch in the window and let people watch you or do the normal thing and sit at a table.
The kitchen staff loves fresh local produce, so there's a pretty good chance that whatever you get will be grown regionally. They also bake cookies (Chocolate Chip and Bacon will change how you feel about ordinary chocolate chip cookies), bread, quiches and muffins. And they make all the soups and specials daily.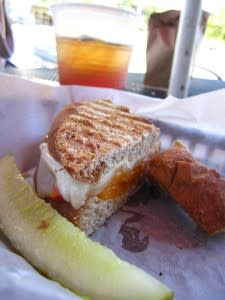 My latest addiction is the Uncle Junior. They say it's a Panini made with fresh tomato, pesto and provolone cheese. I say it's the best melt-y Italian-y sandwich you'll ever eat. But that's just me. (p.s. The picture above is NOT an Uncle Junior, I ate all of it before I could take a picture. That's a La Fawnduh - it's a grown up grilled cheese that also happens to be delicious with a cup of hot soup.)
You can roll your eyes and say I'm exaggerating. Or you can go see for yourself. Just be careful, or you might end up with me at some "anonymous" meeting introducing yourself: "Hi, my name's Ashton and I'm addicted to smoothies and Uncle Juniors from New Moon Café."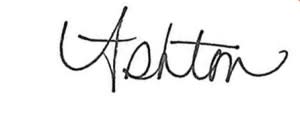 1002 Broad Street, Augusta Ga
(706) 823-2008
http://www.facebook.com/pages/The-New-Moon-Cafe/461891810716