Back
Historic Downtown Loft Tour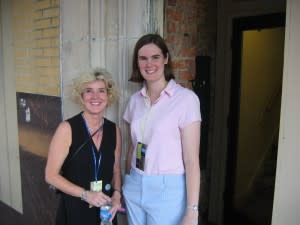 Have you ever walked down Broad Street in Augusta or down Main Street in your hometown, passing historic buildings, and wondered what was on the upper floors or what a building was used as in the past? Well, during Historic Augusta's Downtown Loft Tour you can finally find out! I think the tour is a really fun way to see behind closed doors and to learn about the history and architecture of the featured sites. You can pick up a program from tour headquarters which contains a map and historic information about each of the sites. On First Friday, in each of the loft apartments or businesses on the tour you will get to eat delicious appetizers or sweets provided by downtown restaurants.  The ticket is good for both days, so I recommend visiting the tour sites at your leisure leaving time to take in the shopping, dining and entertainment that downtown has to offer along the way.
This year the tour will be on Friday, May 7 and Saturday, May 8. Check out the tours website for ticket information (http://www.historicaugusta.org/). Tour times are 6-9 pm on May 7 and noon-5 pm on May 8.
Blog submitted by local resident Julia Jackson. Thank you Julia!
Julia