Back
Halloween on the Augusta Canal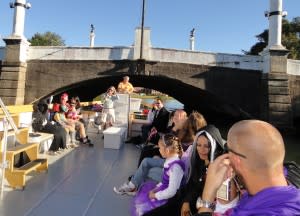 I spent my Halloween day with my friend's two little goblins: Alaynah, who was dressed up like a dead cheerleader but mistaken for a pirate all day, and Nick, who was Superman. I decided to take them on a Petersburg boat ride along the Augusta Canal. These canal rides are provided daily Monday through Sunday by the Augusta Canal Interpretive Center located inside Enterprise Mill. Because it was Halloween we were in luck because those who came in costumes were offered a free boat ride; a savings of $12 per person.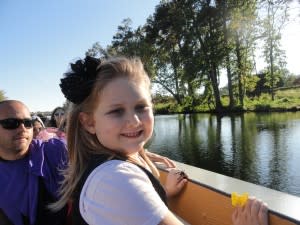 Before the boat ride, we toured the Augusta Canal Interpretive Center. The kids loved this because it offered them a fun learning experience. They were able to view and operate educational models, press buttons and turn wheels while having the opportunity to learn about how the Augusta Canal provided electricity for the city of Augusta and its mills in the past and still does today for some.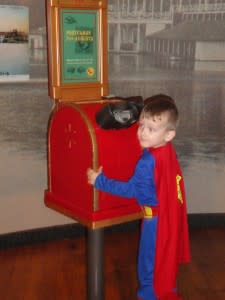 After the museum tour, it was time to board the replica of the original Petersburg Boat, made from longleaf pine, which provided transportation of goods until it was discovered that trains were a more efficient transportation system. The kids had a blast and saw an abundance of wildlife such as beavers, yellow-bellied sliding turtles, and birds. We also saw fishermen, kayaks, and canoes, because the canal offers recreation also. Our tour guide was very knowledgeable about the economic opportunities the canal offered the city of Augusta and poised the question "where would Augusta be if the canal had never been constructed?" It may still be here, but things would be very different. We Augustans love our city and don't want to think about the what if!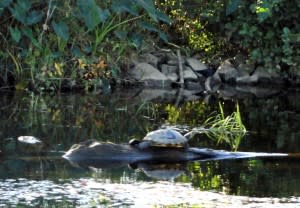 If you are interested in learning the history of the beautiful city of Augusta and also finding an activity that is fun for the entire family than look no further because you have found it.

Augusta Canal Interpretive Center 1450 Greene St # 400 Augusta, GA 30901-5237 (706) 823-0440 www.AugustaCanal.com