I've met a woman who was one of the 40 people at John F. Kennedy Jr.'s wedding. In fact, she designed JFK Jr. and Carolyn Bessette's wedding rings.
The Morris Museum of Art recently held a lunch and trunk show featuring Gogo Ferguson and her jewelry.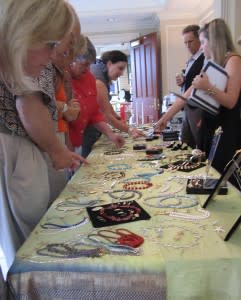 I signed up not really knowing what to expect, but I did a little research and learned that Gogo's jewelry is collected and worn by Hilary Clinton, Isabella Rossellini, Goldie Hawn, Laura Bush and tons of other celebrities.
If you're not familiar with Gogo Ferguson, let me tell you a little about her.
First, she was never a disco dancer (apparently she gets asked that a lot). Next, she calls Cumberland Island, Georgia home and is the 6th generation of her family to live on the island.
To say that Gogo has been influenced by the island would be a huge understatement. It seems as if every piece of art that she's created, whether it's a pair of cufflinks or a serving spoon, is inspired by a found natural object. It could be a sea shell that she's found while walking the beach or perfect leaf that she's found during a walk in the woods.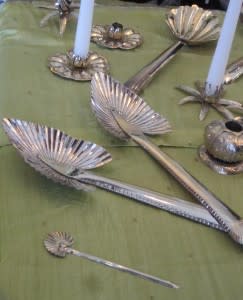 Listening to Gogo talk about her upbringing and heritage on Cumberland Island was fascinating. Her grandmother instilled a respect and awe for nature that is contagious as you listen to her talk about it.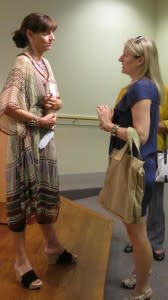 Listening to her speak, I gained a new respect and newfound sense of wonder about nature's little details. That's what Gogo's work focuses on—the details in nature. Sure, looking out at the ocean or into the forest is grand and majestic—but look at the perfect little geometric shapes on an armadillo shell. Look at the perfect spiral inside a conch shell. Look at the perfection of a single animal bone that serves little function on its own, but is just the right size and shape to fit with hundreds of other bones that make it possible for the animal to live. The details show off how exquisite nature really is.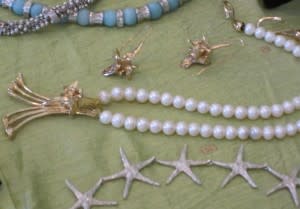 Gogo uses the method of lost wax casting to capture the delicate details that often get overlooked. She turns a rattlesnake's vertebrae into a wearable piece of art that not only retains the integrity of its natural beauty but takes it to a level of adornment.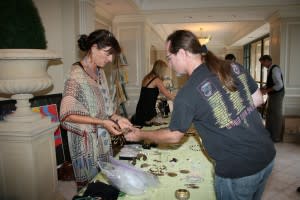 Just as we often times overlook the intricate details in nature, we also often overlook the hidden treasures of the South. This woman, who works with Senators and has met presidents and is friends with celebrities, has lived most of her life in the South. Her jewelry, which so many of the powerful and famous wear, is the result of a passion that was fostered by growing up on a barrier island in Georgia. We may not know her name by heart, but Gogo Ferguson is one of those hidden Southern treasures. One that I'm glad I got to uncover.
Morris Museum of Art
1 Tenth Street, Augusta Ga
706-724-7501
Gogo Ferguson Jewelry