Back
Fresh finds at the Saturday Market
Saturday was a beautiful, warm and sunny day in Augusta. My mom and I decided to take advantage of this weather and visit Augusta's Saturday Market on the River. The market is located at the Riverwalk entrance on 8th Street at Reynolds Street and is open every Saturday from 8 a.m. until 2 p.m. from April through October.
The market was filled with people who came out to see dozens of local vendors, farmers and artisans all gathered in one location selling their treasures. All products sold are locally grown or locally made. This is fantastic because I was able to ask the vendors exactly where the fruits and vegetables I was about to buy came from. Can you get this kind of information or freshness at Wal-Mart? I think not.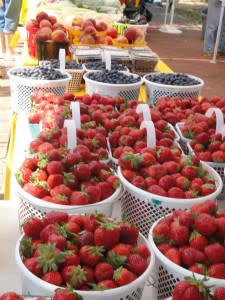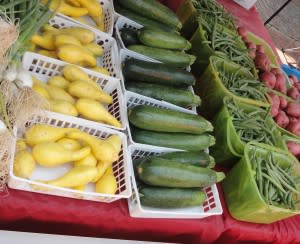 I bought several fresh strawberries and peaches, two of my favorites! But the fresh squash and zucchini looked just as delish! My mom bought some red, juicy, vine-ripened tomatoes.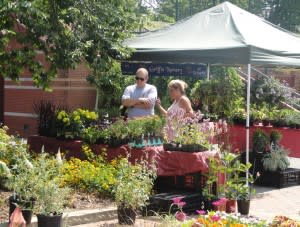 There are also vendors selling several different species of plants, annual and perennial flowers, ornamental grasses and shrubs, ferns, vines and even trees. I purchased a couple of trailing Lantanas, which look pretty in my back yard! Knowing absolutely nothing about gardening, I found the people at Griffin's Nursery very helpful when I asked about caring for my Lantanas.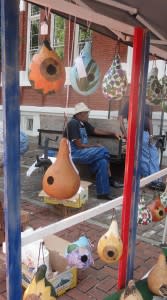 There are also artisan and artistic vendors. You can find hand-crafted and hand-painted birdhouses, handmade jewelry, hand sewn children's clothes, accessories and more!
With so much to do and see at the Saturday Market by the River you are bound to work-up an appetite. No worries! Food vendors are there to serve you. You can sample homemade pastries and breads, grilled chicken, boiled or roasted peanuts and even cupcakes! The bacon and spinach quiche I had from Lily's Bakery was to die for!
We had a great time at Saturday Market by the River and I plan on going each and every Saturday to see what is new. Hope to see you there!
Saturday Market on the River
Riverwalk at 8th Street & Reynolds
http://www.theaugustamarket.com/index.html