Back
Frequently Asked Questions about The Masters Tournament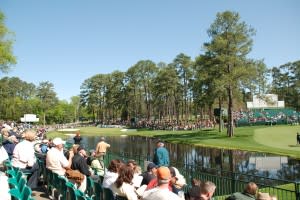 At the Augusta Convention and Visitors Bureau we get a lot of calls about the Augusta National Golf Club's Masters Tournament. Below are just a few of the more regular questions that we have received. Please do not hesitate to call us with other questions about your visit to Augusta at 800-726-0243 or visit our website at www.AugustaGa.org.
I did not get tickets for the Masters 2010, is it too late to apply for the lottery? Yes, it is too late. You will need to reapply. Applications are accepted starting in May the year before and usually due by the end of July.
I cannot do a lot of walking; can a wheelchair be rented at the tournament? No, the Augusta National Golf Club does not rent out wheelchairs but in previous years you could rent them from DuraMed 706.737.0500.
I am not planning to rent a car; do hotels in the area provide shuttle service? Yes, many hotels provide shuttle service from hotel to golf course and back, at a nominal cost or not at all.
Where can I park once I arrive to the golf course? How early do I need to be there? The Augusta National Golf Club has allocated a very large area of free parking spaces during the Masters Tournament. During the Tournament, gates normally open at 8am daily.
I received a notification letter that I won tickets for the practice round so I will be coming to Augusta in April, where can I stay? You can access the Augusta Convention and Visitors Bureau website to get a listing of hotels in the area, or we can mail you a visitor's guide. Websites for research: www.augustaga.org or www.augustareservations.com
I noticed that my check has been cashed, when do I receive my tickets? Typically tickets begin to be mailed out starting mid-January. If you have questions or concerns about your tickets contact the Augusta National Golf Club directly at 706.667.6000 and ask for Tournament Information.
Is the Golf Course within walking distance of the hotels on Washington Road? No, it is not. The closest hotel is about a mile from the front gate.
What is the dress code? Appropriate clothes and shoes should be worn at all time. You will mainly see golf casual on the course. Layers are also recommended since mornings are still a little cool.
I would like to play some golf while I am in Augusta, can you recommend some golf courses? Augusta has many great golf courses to play. However, during the week of Masters Tee times should be made well in advance.
It is March and I have not received my tickets yet? Perhaps you provided a forwarding address; the Augusta National does not forward tickets to addresses not matching the application. If that is the case, then most probably the Club has your tickets, otherwise for any other reason you will need to contact them directly 706.667.6000.
Can I bring an infant with me to the Practice Round? All attendees must have a badge.