Back
Four First Friday Faves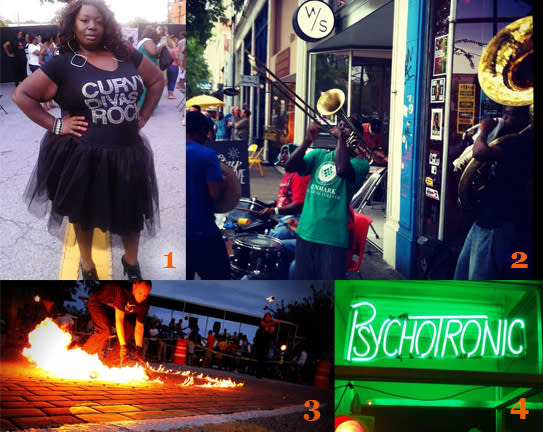 Here in Augusta – we like to celebrate! Any ol' occasion will do, but one of my favorite local celebrations is First Friday. Head downtown on the first Friday of every month and you'll see everyone from families with kids, hipsters, guys in bowties, edgy artists and possibly zombies - all out shopping, eating and just celebrating life in an awesome Southern city. It seems like every month I have a new list of favorites, so don't be surprised if you see another list pop up. In the immortal words of Lavar Burton – "But you don't have to take my word for it…" come out and experience First Friday for yourself!
Fashion Shows – Retail shops like Curvitude Boutique and Vintage Ooollee take full advantage of First Fridays by hosting special fashion shows and offering post show specials and deals. Perfect for curvy divas and vintage vixens – or for those of us just looking for something unique and affordable. (Thanks to Curvitude for the awesome picture!)
Live Music – Lots of downtown businesses, like local design team, Wier / Stewart, allow bands and musicians of all kinds serenade the crowds. If you're a music junkie – band jump down Broad Street and get a little bit of everything! If you prefer to sit and listen, many of the bars downtown have live music and drink specials inside. (Thanks to Wier / Stewart for the awesome picture!)
Entertainment – Lawd, Jesus, it's a fire! But a good one. Local groups like Pyroteque have free, family friendly shows during First Friday. You may also come across belly dancers, folk dancers and just regular folks dancing in the street. (Thanks to Pyroteque and Rich Bennett for the awesome picture!)
Shopping – Local stores like Psychotronic Augusta, The Book Tavern and shops along Artists Row are open late and offer special deals for First Friday shoppers. From $1 vinyls to acrylic paintings of James Brown to BOGO books – you never know what you'll find 'til you look! (Thanks to First Friday for the awesome picture!)
I'll see you next time!