Back
Farmhaus Milkshakes Bring All The Foodies To The Yard
Who doesn't love a good milkshake? I know I do. I'm not talking about the watered down, artificially flavored, syrup laden mess you get from a fast food chain.
I'm talking about  a real, honest-to-goodness shake. And that's what you get at Farmhaus Burgers! (I don't have enough time to talk about their locally sourced, beefy awesomeness. But if you haven't tried it - believe me when I say you will not be disappointed. And what goes better with a shake than a burger?)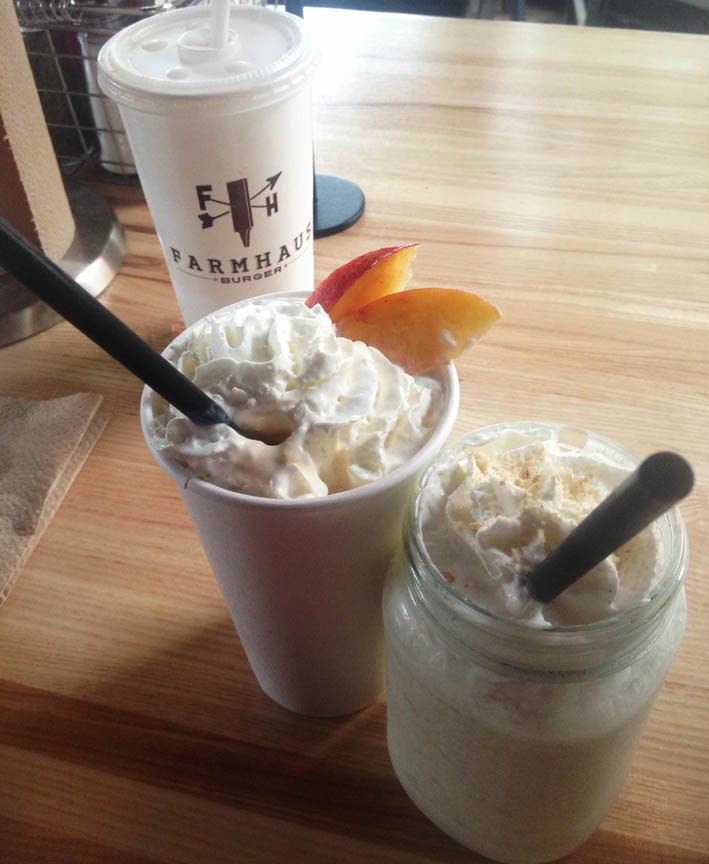 The two shakes you see before you are, in a word, epic. The shake to the right is the Shake of the Month: Titan Farms Peach & Caramel Milkshake. It's made from local peaches and is sweet, a little salty from the caramel and has little bits of juicy peach that pop up and surprise you. It's only available this August, so you have to plan a visit this month if you want to try it! The shake to the left is the Nana's Pudding. It's a boozy shake that magically tastes like the most legit liquid banana pudding you will ever try. It has Banana Rum, Irishman Irish Cream and little bites of crunchy vanilla wafer. The Nana's Pudding shake is part of the regular drink/shake menu. If you're craving a fun adult beverage you should definitely give this a try. Find them on Facebook at: Facebook.com/FarmhausBurger.
Tues - Thurs: 11 a.m. - 10 p.m.
Sat - Sun: 11 a.m. - 11 p.m.
1204 Broad Street, Augusta GA 30901
706-496-8771