Back
Family Bowling in Augusta, Georgia
I have to admit it has been awhile since I have gone bowling. There was a time in my youth when I did own my own purple bowling ball and shoes, but I digress. This time I was taking William, almost five, to explore the fun of bowling in Augusta, Georgia.
First things first – the shoes! They are a lot nicer than I remember renting. William's actually had Velcro and looked brand new. Mine also were very snazzy. Then it was to putting our names in the system. Again to reminisce, I am old enough to remember the small pencil and having to do the math all by myself.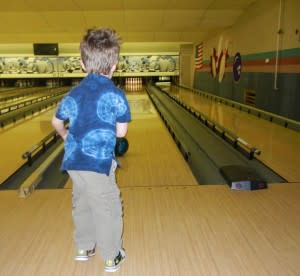 This is something new – and all for the kids – before we started the bumpers went up. Yes, actual guard rails to keep the kids' ball on the lane. And I will tell you William put those rails to the test with a few curve balls.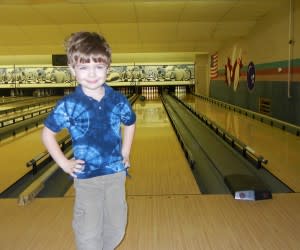 We tried rolling the ball, pushing the ball, throwing the ball and of course kicking the ball. After a few frames, he did decide actually putting his fingers in the holes of the 6 lb ball was the best. And the ensuing strike made it all worthwhile. And of course for a kid learning his alphabet, the big "X" on the screen was very exciting.
I will not tell you what my final score was, but will tell you I had excellent form.
A few bowling lanes in Augusta, Georgia to try out.
AMF Masters Lanes 1810 Gordon Highway, Augusta (706) 733-3624
Brunswick National Lanes 3067 Washington Road, Augusta (706) 860-1667
Gordon Lanes Bowling Center 3rd Ave. #33200, Fort Gordon (706)791-3446