Back
Experience Art & Get Inspired!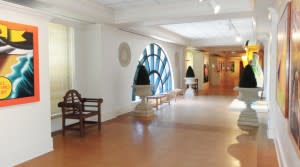 When I was in college I needed a place to escape the daily grind of research, writing papers, reading textbooks, projects, and the list goes on...So I found a place. Where was my sanctuary? Where is it that I went for a refill of creative inspiration? It was the Morris Museum of Art.
The Morris Museum of Art is located on the Riverwalk in downtown Augusta. It is "The first museum dedicated to the art and artists of the American South." Each and every item found in the museum was either created by an artist in the south, or the subject material is related to the South.
There is a permanent collection which holds paintings, works on paper, sculptures, photographs and more. In the collection you can find works for the Antebellum and Civil War periods, all the way to Contemporary Works created in the South. It's an extensive collection with around 5,000 pieces.
To walk around from room to room and take it all in is an excellent escape from the world outside. Someone actually created this-- it is inspirational! This mental, visual break helps me regain the composure I need to finish my assignments.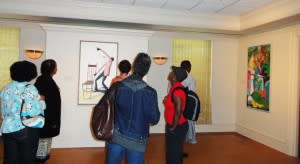 The Morris Museum of Art also offers eight to ten temporary exhibits yearly. Currently museum visitors can find two astonishing exhibits. One is Preservation of Place by Edward Rice. The Morris commissioned 40 paintings, drawn from public and private holdings in the Augusta area and elsewhere. The collection portrays recognizable Augusta landmarks such as the Sibley Mill, Sacred Heart Cultural Center and more. He uses bright, vibrant colors to draw the eye in through various layers creating a remarkable three-dimensional effect. The exhibit is on display until November 20, 2011.
The second temporary exhibit is Down South: Paintings by Art Rosenbaum and Photographs by Margo Newmark Rosenbaum. Famed painter, muralist and illustrator Art Rosenbaum (also 2011 Westobou Festival Signature Artist) and his wife Margo, well-known photographer joined forces to create a Grammy award-winning box set of field recordings of roots musicians performing songs and hymns unique to the South. The exhibit is on display until November 6, 2011.
The museum is not just a place for adults to escape the world and become engulfed by creativity, but also for children. There are several family fun days! For example, the first Sunday of each month is Artrageous! Family Sunday – where kids of all ages can get crafty and create their own works of art. And remember, Sunday admission to the Morris is free! The next Artrageos! Family Sunday will be November 6 at 2:00 p.m.
For more information on the fun things for both adults and children visit the Morris Museum of Arts' website http://themorris.org. Or stop by and visit the friendly staff.
The Morris Museum of Art One Tenth Street Augusta, Georgia 30901 706-724-7501
Hours of Operation: Tuesday - Saturday 10 a.m. - 5 p.m. Sunday Noon - 5 p.m. (Free admission on Sundays)