Back
Downtown Exploration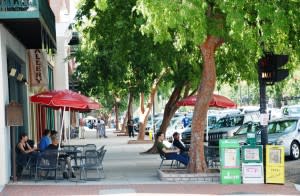 Barbara Steele, an Augusta Visitor Center Volunteer, and I went exploring the various antique shops and galleries downtown during November.  We were quite impressed with our discoveries!  On this particular exploration, we decided to have lunch at the New Moon Café (1002 Broad Street). New Moon is a wonderful place to have breakfast on the run and our lunch experience was great. We both enjoyed the sandwiches with chips and a pickle spear.
We ventured off to 1006 Broad Street to the Zimmerman Gallery, where we found a beautiful selection of art, pottery, glasswork, marble and jewelry.  Jeff, the owner was a pleasure to talk to. Did you know, if you find a piece of art you like from the gallery you can take it with you for 24 hours  to see if it will work with your décor at home or office, then return to the gallery with your decision to purchase it or not. (Your credit card will be swiped first.)  We continued to walk Broad Street and made our way to 1016 Broad where we met Carol Kelly Dorn, an Artist at Galley on the Row.  She does beautiful oil, watercolor, pastel, charcoal, pencil and Conté artwork.  Our conversation with Carol was very refreshing while she showcased her art to us.
Our final stop for the day was at Tire City Potters – what a great discovery on 210-B 10th Street.  We met the owner  Shishir Chokshi,  a local potter downtown and toured his business. Shishir let us see the kiln (where the pots and vases are fired). Tire City Potters is located in an old garage, so if you did not know any better, you might think it was a tire business instead of clay pottery!  This experience just proves we need to see what is in our own downtown. You just might be impressed with your discoveries!