Back
Do the Westobou for Free!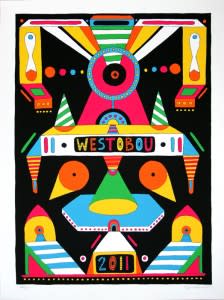 Westobou Festival starts this week! There is so much going on and so many awesome shows to see that I get a little worried about my wallet. Luckily there are tons of free events during Westobou that are just as fun. And who doesn't love free stuff? So, here are 5 free events that you shouldn't miss! These not your style? Go grab a program (they're huge, so you can't miss 'em!) or visit the Westobou website.
Sarah Hobbs: Flight in Place (Sept 21 – Oct 8): Hobbs' photography explores phobias and obsessive compulsive behavior on a large scale, eye-catching a thought-provoking exhibit at the Gertrude Herbert Institute of Art. This one, I've got to see.
Artists Row Community Sculpture (Sept 29 – Oct 6): Help build ARTie, the Garden City Dragon! Participating artists and community members will help construct ARTie outside the Old Richmond Academy using recycled materials. The sketch of ARTie is huge! I can't wait to see the end product.
Welcome Practicalonga (Sept 29): It's a Mini Tango Festival! I'm a sucker for anything dance – Footloose, Take the Lead, Dancing with the Stars. So I'm definitely not going to miss the chance to see the passion of the tango first hand! It's being held at Casa Blanca Café, which means I get to eat awesome food too!
Chamber Series: French Modernism in Music & Art with Martin David Jones and Clara Park (Oct 4): Off the top of my head, I have no idea what French Modernism is. But it sounds cool and I love music and art. So, what the heck – I'm going! St. John United Methodist Church is the perfect backdrop for something like this!
Social Canvas (Oct 4 – Oct 5): I heart Social Canvas. The Parade Grounds at Old Richmond Academy will be full of people, live music, artists creating works inspired by the music, crafts to make on your own and art for sale…could you ask for anything more?