Back
Disc Golf--it's in the air!
If you're like me you probably get tired of the same routine of exercising at the gym. Cardio, strength training, cardio, strength training, again and again. It gets old, fast.
Well, you're in luck because I am here to introduce you to a new way to both exercise and have fun at the same time! It's called Disc Golf. You may have heard of it, or seen a group of people playing at your local park. If you haven't, listen up...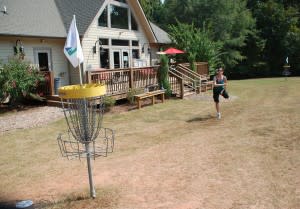 Disc Golf is played much like the traditional game of "ball golf," but instead of clubs, players use a flying disc and instead of a hole, there's an elevated metal basket, or more formally called "the Pole Hole." The sport was formalized in the 1970's, according to the Professional Disc Golf Association and shares with ball golf the object of completing each hole in the fewest number of strokes, or in this case, throws and make Par.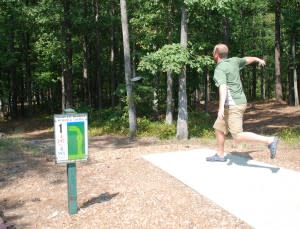 The player tees off from the "Tee Pad." As a player progresses down the fairway, he or she must make each consecutive shot from the spot where the previous throw landed. But, unlike ball golf, the terrain various. Often, a player must maneuver their disc around trees, shrubs and terrain changes located in and around the fairway. This provides challenging obstacles for the golfer.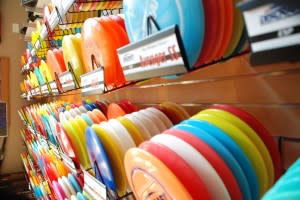 Also like ball golf, which has various clubs, disc golf has various discs players use depending on the distance being played. There are drivers, mid-range/fairway drivers and putters. And a disc is far less expensive than a golf club.
And unlike ball golf, this game is often free! Rarely are there any green fees associated with the game. As a matter of fact, there are several courses in the Augusta area you can try free of charge, and what's even better? You can play anytime you'd like, so you're never stuck with a bad "tee time."
Free Courses:
Lake Olmstead Park - 2200 Broad Street, Augusta, GA 30904 - (706)736-7889 Patriots Park - 5445 Columbia Road, Grovetown, GA 30813 - (706) 863-7523 Pendleton King Park - 1738 Pine Tree Road, Augusta, GA 30904-5068 - (706) 733-4176 Riverview Park - 100 Riverview Park Drive, North Augusta, SC 29841 - (803) 441-4300
Green Fee Courses:
Wildwood Park, located in Appling, GA is home to the IDGC (International Disc Golf Center and Hall of Fame) and also home to one of the most challenging disc golf courses in the area. This course is a paid course and monies are used for donation purposes. 3828 Dogwood Lane, Appling, GA 30802 - (706) 309-9017
For more information on disc golf, I recommend visiting the sites below...Hope to see you on the course!
Professional Disc Golf Association Augusta Disc Golf Association