Back
Fort Gordon Dinner Theatre
This year for my first time I went to the dinner theater in Augusta, Georgia and it was fantastic. We had an office outing to the Fort Gordon Dinner Theatre to see their production of Dearly Beloved. I really did not know what to expect accept everyone had always told me the food was great and the shows were fun. They were right about both.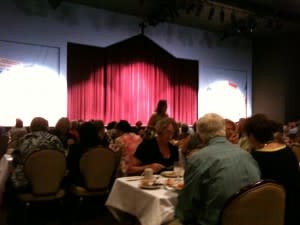 The trip out to Fort Gorgon was easy. I arrived at the theater to find the parking lot full. Katrina pulled in just behind me, so we walked up the meet the rest of the team. When the doors opened, they showed us to our table. You enjoy dinner first and then the show. So here is the inside tip……get your dessert before you get your dinner. I grabbed my slice of chocolate cake and then went back for the prime rib. The buffet was full of good things. Potatoes au gratin, stir fry vegetables, rice with a spicy shrimp, and of course the prime rib. All was yummy. But I did notice at the end of the meal, the desert table was looking slim on choices. So don't forget the inside tip.
Our dinner was on the same level as the theatre stage. There is also an upper level of seating. I took this photo while the lights were still on – but I think you can get an idea of the setting. I enjoyed the seats throughout the play.
The play was the story of a wedding in small town that goes awry when the bride and groom go missing. Of course there is a happy ending but I don't want to give everything away. The actors at the Fort Gordon Dinner Theatre are terrific. They are all local, some even soldiers. The production was so much fun to watch. I really got lost and the story and enjoyed my time.
The Fort Gordon Dinner Theatre Season has about six productions a year. Each show runs about two weeks. Tickets range from $25 - $39. You can also just go for the show and not do dinner. I recommend dinner.
It was a different experience for me and glad for the office outing. I hope to go back soon this time without the team.
Fort Gordon Dinner Theatre Located on 3rd Avenue, Building 32100, Fort Gordon, Georgia Box Office (706) 793-8552