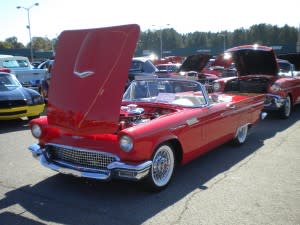 The first weekend in November had gorgeous weather, so we headed to Washington Road to check out the Fall Pumpkin Run Car Show sponsored by the CSRA Road Angels. We were in for a treat!  The show nearly took up the entire parking lot and the cars ranged from antique Corvettes and Cadillacs to a Lotus. The care and detail that has been put into some of the cars we saw was amazing!  Some cars even had really authentic touches, like this one with a tray from the drive-in!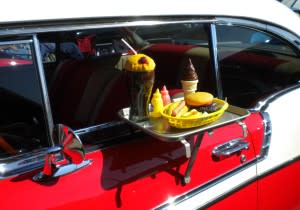 There were folks from all over the place at this show, and even one car that calls Alaska home!  It was great to get out see so many beautiful cars and appreciate the hard work it took to bring them back to their former beauty.
Some people really had amazing stories about their cars.  We ran into some friends who were showing their 1970 Camaro.  The car had previously belonged to their brother and had been lovingly restored after he passed away.  It was a really great tribute, and the car even won best in class!  Here I am beside the bright orange car: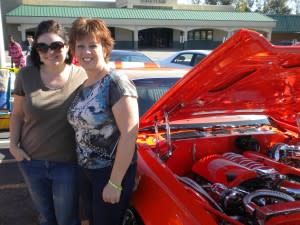 If you are into classic cars or just enjoy getting out and seeing all the great things Augusta has to offer, you should check out some of the upcoming shows hosted by the CSRA Road Angels.  They also host the First Friday car show downtown from April to October. You can find more information and a complete schedule of car-friendly events on their website at www.roadangelsaugusta.com .