Back
Class Reunion in Augusta
The following blog was submitted by a fan of Visit Augusta's Facebook page. We are so glad he enjoyed his time while he was in Augusta! Thank you for submitting John!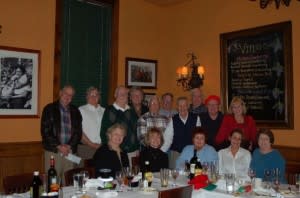 I, along with several classmates from Thomson High School met at Macaroni Grill in Augusta in December of 2009. Including spouses or friends, we had 20 people attend, making this more of a mini-reunion than a formal class reunion.
The Macaroni Grill had a side room set up with tables for us. It was not a separate, closed away room, but one with an opening so the rest of the restaurant was visible from where we met.
We met at 1:00 pm and had some tea and drinks, visited and chatted for a while, and then ordered lunch. We were having such a good time that most of us remained there until 4 pm or after.
The staff was friendly and helpful and accommodating. The food was excellent and it really turned out to be a fun time for us. The atmosphere was great for catching up with old friends. We enjoyed everything and since we had our own semi-private dining area, we didn't feel rushed.
We would recommend Macaroni Grill to other groups and will certainly consider meeting there again. It is a great place to enjoy a relaxed meal in Augusta!
John Brooks, Burlington NC