Back
Cheddar's Casual Cafe
Last weekend some friends and I went searching for great tasting food offered at an affordable price. Where did we end up? Cheddar's! The restaurant is fairly new to the Augusta area. It has only been open for a little over a year, but it's fantastic food and reasonable prices keep this restaurant packed.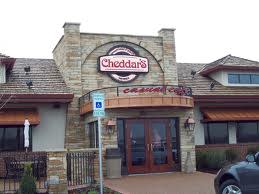 Cheddar's is a casual dining experience. They have inside and outside seating available, a full bar with inexpensive drink options (my favorite is the Sangria Margarita) and an extensive food menu offering: appetizers, soups, salads, chicken, burgers, steaks, cold and hot sandwiches, desserts and a kid's menu for the little ones. And you MUST try their flakey, honey-buttery croissants!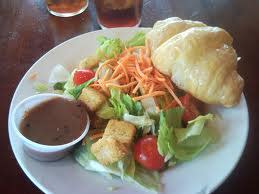 We started the night off with some of their tasty appetizers. We choose the Santa Fe Spinach Dip, it's a mix of spinach, sour cream, a blend of Southwestern spices and fours cheeses. It's served with their homemade salsa and crispy tortilla chips.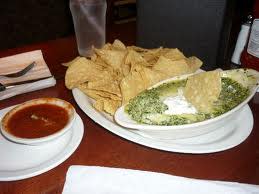 We also ordered the Texas Cheese fries, made with A large portion of crispy golden French fries loaded with melted  cheeses and crispy bacon. Perfect for dipping in their homemade buttermilk ranch dressing.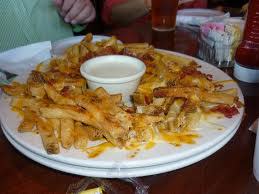 Then it was finally time for the main course! I decided to try their Grilled Chicken Alfredo with fresh garden vegetables. I followed my server's recommendation and ordered a side of marinara sauce and it was delicious!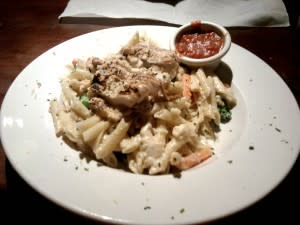 My friend Sarah ordered the chicken tender and steak combo, center cut top sirloin with hand-breaded chicken tenders, and for her sides she choose a baked potato and a bowl of rice and beans. It was all fantastic!
I will definitely be going back to Cheddar's very soon! The portions are large enough that we were able to take some home for lunch the next day. Large portions, fabulous food and low prices? It's a no brainer! Try it for yourself.
Cheddar's Address: 3609 Walton Way Extension, Augusta, Georgia 30909 Tel: (706) 738-7831 Hours of Operation: Sunday - Thursday  11:00 am - 11:00 pm Friday and Saturday  11:00 am - midnight